The More Out of Breath You Become, The More Fat Cells You Consume
Starve your body of simple sugars, and it will use fat as fuel. The heavier you breathe, the more fat cells your body consumes.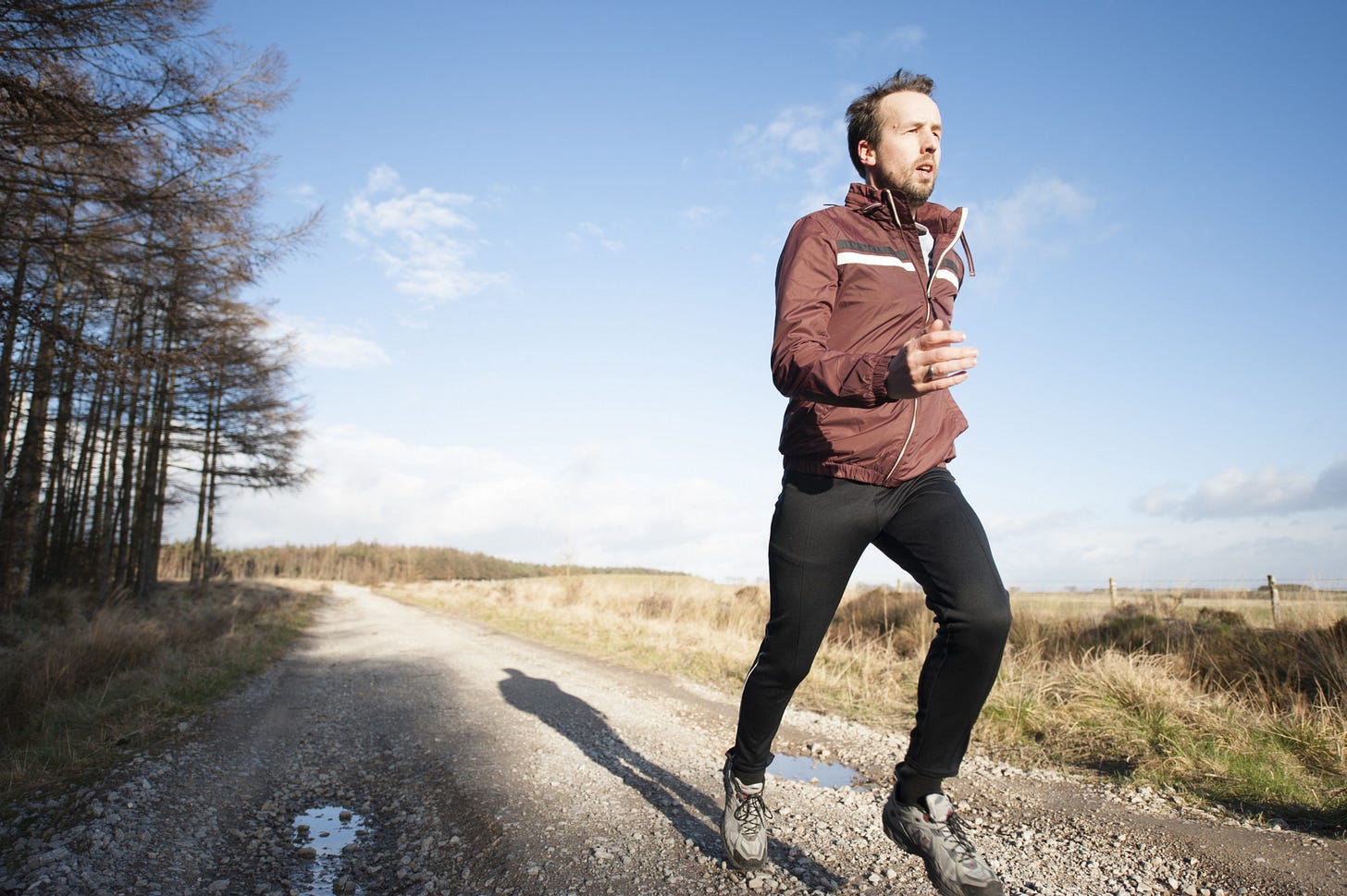 Photo by Jenny Hill on Unsplash
5 Weeks To Fitness Day 4
Starve your body of simple sugars, and it will use fat as fuel. The heavier you breathe, the more fat cells your body consumes.
Welcome to 5 Weeks To Fitness, the publication where I'm sharing the steps I am taking to lose 10lbs, reduce body fat from 16% to 12%, and run a 5k in under 22 mins, all within five weeks. If you're in your forties and you've let your fitness slip, follow my progress and test out the methods I share for yourself. Join my mailing list to stay up to date on new articles.
(please remember to always consult a doctor before starting any diet or exercise regime. I am not a health professional, and I do not provide advice to those suffering from physical ill-health or weight problems).
Progress is good. By that I mean to say, momentum is building in the direction I want. Body fat is down, my overall weight is down, and I feel good.
The subjective feeling that we call good or bad is an essential factor, even if we can't measure it because feeling is all we've got. Without feeling there is no aliveness, you might as well be a rock. Assuming a rock has no feelings that is. I don't know that for sure.
The sensation of feeling good is my individualised aggregate measurement of a multitude of factors, many of which I cannot identify. Devoid of, and ultimately of higher value than, stats, it tells me if what I'm doing right now is working or not.
If stats do not reflect the level of effort I'm putting in, which can often be the case, I can become demoralised and fall off the wagon. For example; if my body fat percentage remains stagnant or perhaps goes in reverse for a couple of days, then I can lose my mojo. But If I'm sticking to the program honestly, and feel good about my effort, then the interim results matter less.
That can, of course, work against me in the case of a lack of progress say over two weeks, but in the short term, it's a good indicator. In the longer term, a coach can help correct any deficiency in the program.
So anyway, progress is good.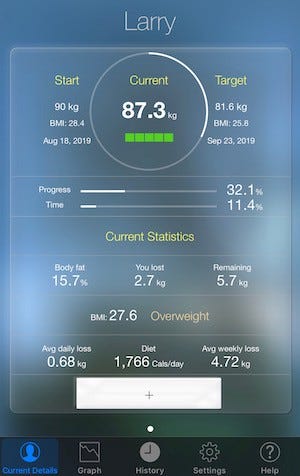 Stats recorded using My Weight app for iPhone. I enter my details here daily, and the app produces a nice layout and graph of my progress. At the start of Day 4, all stats are going in the right direction
Stats from Day 4 weigh-in;
Weight: 87.3kg

Body fat: 15.7%

BMI: 27.55
The harder you workout, the more fat cells you convert into carbon dioxide, nitrogen and other gases. Then as you breathe out, you expel them back into the atmosphere. Then other things like trees and plants absorb them. Pretty cool, isn't it? You an I are quite literally, an exchange of base elements with other organic bodies. The entire earth is a single living breathing thing.
Yesterday I didn't breathe as hard as the day before, so I'm not surprised that the stats came back only slightly. Today's training will be a little more testing so let's see if tomorrow morning's stats reflect that.
You can copy and download this chart and associated spreadsheet here. Enter your stats in the fields to map your progress or edit the spreadsheet to suit your needs
Download the weight-loss progress sheet here. (Open the file and click file > make a copy to create and save a copy)
Day 4 Food
Breakfast: This morning, I had a cup of strong coffee, a pint of water, a pear and a vitamin and mineral soluble tablet in 300ml of water.
Lunch: At about 2 pm, I cooked up a variety of Strong Roots frozen veg that I mentioned yesterday with three free-range fried eggs. I also had a cup of strong coffee.
Dinner: I have started having lunch as my dinner and leaving the latter end of the day, a low-calorie period. After tonight's workout I'll have a protein smoothie made from the following ingredients;
200 ml milk (dairy) or coconut milk

Two free-range eggs

Two tablespoons plant-based protein (Sun Warrior)

One teaspoon Supergreen protein powder

1/2 a banana
Day 3 Exercise
I'm bringing forward Wednesday night's run because I'd rather a one night break in between runs. Also, tonight will be the bodyweight strength work.
Exercise for today
3 x 10 x Pressup rotate

3 x 10 x Jump squat

3 x 10 x Front lunge

3 x 10 x Burpee

3 x 10 x Hillclimbers

3 to 5 x 1 km repeats on the polo grounds
Here's a complete breakdown of my exercise regime for the five-week period. (Click file > make a copy to make and save a copy of the exercise regime).
If you are following along, post a comment below. If you're not, how about giving the program a go? You'll find the intro article here.
Thanks for taking the time to read my stuff. Every morning you'll find me sharing a new thought on life, art, work, creativity, the self and the nature of reality on The Reflectionist. I also write regularly on The Creative Mind. If you like what I'm creating, join my email list to receive the weekly Sunday Letters
You'll also find me here