Monday Marketing Issue 001
Here's a quick look at what's coming soon on Seolar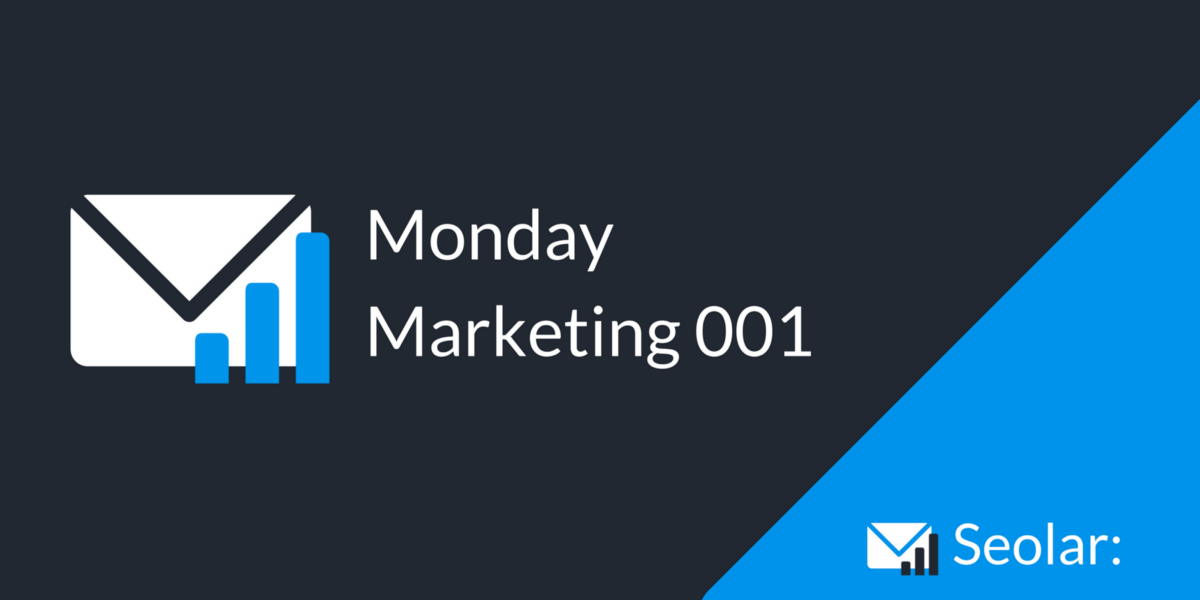 Here's a quick look at what's coming soon on Seolar
This weekend saw the launch of Seolar. It was all a little mute insofar as I didn't build a launch team nor did I do any pre launch promotion to get the word out. I just got the domain directed to Medium servers and launched it.
Well schooled marketers will be horrified at my distinct lack of preparation, however, I just felt the buzz of it and just went for it.
So today, although there are very few readers and followers of this publication, here we are…Welcome!
Before We Proceed
I truly want to give you content you need most. Can you take 60 seconds to tell me what your biggest challenge is in your business? Let me know here.
A Little About Me
To start off I want to tell you a little about me. I'll keep it brief, I promise. I'm a bit of a nerd and I like to keep to myself mostly so you won't find me laying plaudits on myself here. So just a quick bit of background…
I'm a dad to 3 beautiful kids, Ruairi, Cian & Cara and husband to Joanne. I'm a content writer although I've not always been. I started in business in 2000 and had some good success there for many years counting the US Gov and Intel as clients. Then the crash in 2008 came.
Before that I was working online, writing and promoting my business. So when the turn in the economy came I simply kept writing and marketing. So I'm almost 10 years online now.
In that time I've had the pleasure of writing for sites like SEMrush, CoSchedule, Kissmetrics, Lander, Jeff Bullas and others and in the process I've learned tons about marketing successfully online.
How to use marketing tools like MailChimp, Sumo, WordPress, Thrive Themes and other platforms is a speciality. On Seolar I'll be showing you exactly how to use these tools to build your audience and subsequently your business.
Subscribe For Email Marketing Tips
Join Seolar for weekly email marketing tips and tutorialsseolar.com
Content You Can Look Forward To
From the time someone visits your website to the first sale you make, you need to create content that gets their attention and inspires trust. I'll show you how to do that. I will also show you how to follow on the conversation via email throughout your funnel process.
Eventually the quality of your content and the efficiency of your process will convert casual visitors into loyal customers and advocates for your business. That's the plan anyway. I can't guarantee you results, but I will show you step by step how to put a system in place.
Content will come in the form of written articles with screenshots and video. Many existing tutorials available on YouTube are quite poor and I think I can offer a better standard. Videos will be no longer than 15 mins.
Not only will I be focused on Email Marketing Tools, but I'll also be showing you how to write emails that convert. As such copywriting will be a central feature.
Email Marketing Service Platforms
With MailChimp tutorial videos I'll be starting with the basics and working through the platform to show you all you need to use the platform successfully. I'll also cover advanced features with a view to building out the content into course material.
There are of course many other platforms you can choose to use such as ConvertKit, Aweber, Infusionsoft etc. They all have their advantages and disadvantages, however the reason I'll be focusing on MailChimp is because it is by far the biggest and it suits startup entrepreneurs because it's free up to 2000 list members.
Lead Capture
Sumo (formally Sumome) is a suite of lead capture tools from Marketer Noah Kagan. It's a really excellent set of tools however it can be a little tricky for some to master. I will explore the entire suite of tools showing you tips and tricks to customise Sumo for your own website.
We'll cover popups, slide-ins, welcome mats, and other types of optin forms for your website. We'll look at how to design them and how to optimally set up activation triggers. So many website have these pop ups poorly configured. That won't happen here, I'll see you right 👍.
Building Funnels
I'll be showing you how to build funnels for your products and services. When someone signs up what happens next? How do you make them an offer? How do you deliver your lead magnet? What about landing pages? What about taking payment processing, who should you use and how?
Never fear! I'll be touching on all of this and offering you tutorials to make this process as easy as possible.
Lead Magnets
Lead magnets are sometimes referred to as ethical bribe or optin bribe and so on. I don't like the term bribe because it implies cheating of some sort. the name lead magnet feels better to me.
Regardless of what you call it, you'll need to create a valuable piece of content (a lead magnet) that your readers will value. One that reflects your business. I'll be showing you how you can create high quality lead magnets with tools like Designrr and deliver it to your subscribers.
WordPress Themes & Plugins
WordPress dominates the internet with over 26% of websites built on the platform. This site is of course built on Medium's platform but I'll still bring you WordPress stuff because I know it will have relevance to many of you.
So why did I build on Medium? I hear you ask…
Well, it's an experiment. I want to explore how I might build traffic and subscribers using a platform like Medium where I have the potential of reaching more people right off the bat, rather than starting with a fresh WordPress install.
I'll be looking at tools like hosting from the likes of WP Engine and landing pages builders like Thrive Themes and showing you how to configure and get the best out of them.
Subscribe For Email Marketing Tips
Join Seolar for weekly email marketing tips and tutorialsseolar.com
How I'll Deliver The Content
I'll be trying always to as efficient with how I create content as possible. What that means is although you may find pretty much the same message in all the places you'll find me, I'll be repurposing and offering it to you in different formats.
Articles
All articles will be found here on Seolar. You'll likely find them republished with a slight variance on the likes of LinkedIn, Niume and third party sites. I'll also do some guest articles on larger marketing sites.
Video
Video will play a large role and you'll find all my free tutorial video content on YouTube. I'll also play around with video on LinkedIn and Twitter as a means of promotion.
Audio
I've produced podcasts previously and really enjoy the process but it was way too time consuming. I'm looking at getting my old podcast going again and Anchor may be a possible home for it.
Curated Content
I read a lot of marketing content and I share lots of what I like to read on my Twitter. I read CMI, Quick Sprout, Jeff Bullas, Neil Patel, Traffic Generation Café, OKDork, Copyhackers and others.
Every week on Monday Marketing I'll include a selection of curated content from blogs I think you'll like to check out.
As it happens, here's a couple of recent marketing articles I've been reading that you might be interested in checking out;
5 Landing Page Mistakes That Are Sabotaging Your Chances At Conversion
Landing pages are a central part of every inbound marketing strategy. When visitors land on your page, you only have a…www.jeffbullas.com
Free trial emails are desperate - do this to fix them (June 2017)
Your prospect starts a trial and gladly opens your welcome email. She wonders what marvellous, mind-reading revelations…copyhackers.com
How Do You "Build A Relationship" With Your Email Subscribers? - Josh Earl
So you know you're supposed to build a relationship with your email list, right? But what does that even *mean*? How do…joshuaearl.com
10 Things You Need to Do After You Publish Your Blog Post * Smart Blogger
Can I ask you a question? What do you do after you hit the "Publish" button? If your blog isn't getting any traction…smartblogger.com
Other Places You'll Find Me
That's all I've got for you for now.
I've tons more I could get into but I need to sign off and get this article published. I'm very much in planning mode right now so I'll be publishing content and figuring out what you guys need most along the way.
On that subject of what you need most, can you take 60 seconds to let me know?
On a final note, you'll find my stuff on several platforms around the web such as YouTube, Twitter and LinkedIn. Not all Seolar content will be replicated on those platforms so make sure to follow me to get content in other formats.
All the best for now, have a great week!
Larry

About The Author
Hi I'm Larry, creator of seolar.com. I publish weekly FREE marketing tutorials that help you build your audience and grow your business online. Get on board here for weekly updates
The Larb, Weekly Podcast For Creatives
Listen to The Larb, my weekly podcast for creative entrepreneurs and solo business owners out every week. Launches 7th September on iTunes, Stitcher and SoundCloud.
Hook up with me on social media