Introduction To The Larb Podcast
Subscribe To Podcast: iTunes | Android | Email | Stitcher | RSS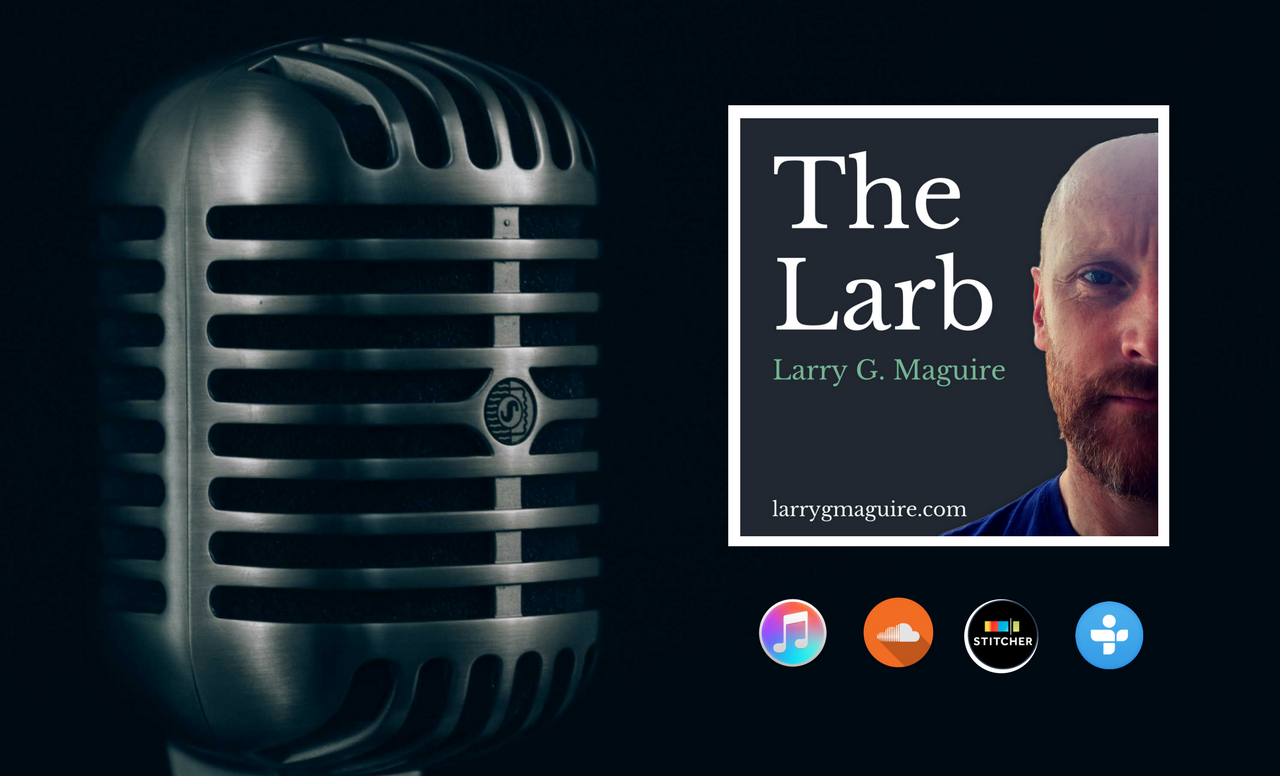 Introduction To The Larb Podcast
In this the first episode of The Larb I explain why I started the show, who the show is for and what you can expect in upcoming episodes. I am a creative first and foremost and have been a business person since age 25. I am a freelance writer and marketer as well as an occasional charcoal photorealistic portrait artist. On The Larb I invite guests to share their creative process and philosophy for life and work. You can also learn such things as how to find an audience for your work, how to build a business around your art and how to find success. Whatever that means for you.
The Larb: A Podcast For Creatives From Larry G. Maguire
Artist & writer Larry G. Maguire presents The Larb, a weekly podcast for creatives. Larry shares ideas about creativity…larrygmaguire.com
Notes From The Show
Hey folks, welcome to the very first episode of The Larb, the podcast show for artists, musicians, craftspeople and creative entrepreneurs of all disciplines. If you are interested in the creative process and how to make a living from your creative work then this show is for you.
I'm your host Larry G. Maguire, writer and artists at larrygmaguire.com and wokenmind.com where I write weekly about creativity, art, work, life and how it all goes together.
In this week's episode we'll get inside what this show is all about and why I created it.
Every Thursday my guests and I, and sometimes just me, discuss subjects on a range of topics. Topics like, how to make a good living doing what you love. How to market your work and how to turn it into a business. We'll also look at some of the deeper life questions such as, who are we and what are we doing here.
After all, these questions occupy the minds of many creative people and influence our creative output.
Where To Get The Show
You can catch all new and past episodes every week on iTunes, Stitcher Radio, SoundCloud, Tunein. Or indeed your choice of a host of other podcast platforms. Where ever you happen to be listening, click the subscribe button to make sure you don't miss an episode.
I'd love to spread the word about the show to as many creatives as possible so if you are so inclined, I'd really appreciate your help. Share with friends and colleagues, post comments on the blog post accompanying the show, or offer a review on iTunes.
If you haven't got it yet, head over and grab your FREE copy of The Artist's Manifesto where I break down my entire creative philosophy for work. Feedback from everyone so far has been awesome and I think you'll get great value from it. Every week I publish Sunday Letters so you'll get that too when you sign up.
Upcoming Episodes
I've prerecorded 5 episodes in advance so you can go listen to those now. Here's the links to check them out;
Subscribe: iTunes | Android | Email | Stitcher | RSS | More
The Artist's Manifesto Episode from The Larb | Larry G. Maguire
This week on The Larb, listen in to The Artist's Manifesto Episode where Larry gets into the core of The Artist's…larrygmaguire.com
Music, Solitude & Prison With Ray Heffernan | Larry G. Maguire
Ray Heffernan is a Dublin singer-songwriter probably best known for writing Robbie Williams' big chart hit "Angels". He…larrygmaguire.com
Why The Standard Working Model Is Broken | Larry G. Maguire
The Standard Working Model is a term I use to describe how we work and how we educate ourselves and our children. Not…larrygmaguire.com
Keeping Your Art Real With Harry Hoban | Larry G. Maguire
In this weeks episode of The Larb I'm chatting to songwriter and musician Kevin Harry Hoban about art, songwriting…larrygmaguire.com
Originally published at larrygmaguire.com on September 19, 2017.

Support my work for only $1
Hook up with me here
Email | Facebook | Twitter | Podcasts | Instagram | Patreon