Exchanging Art For Dollars
One of the biggest struggles we creatives endure is making a sustainable living from our work. Perhaps we can begin to solve that from here…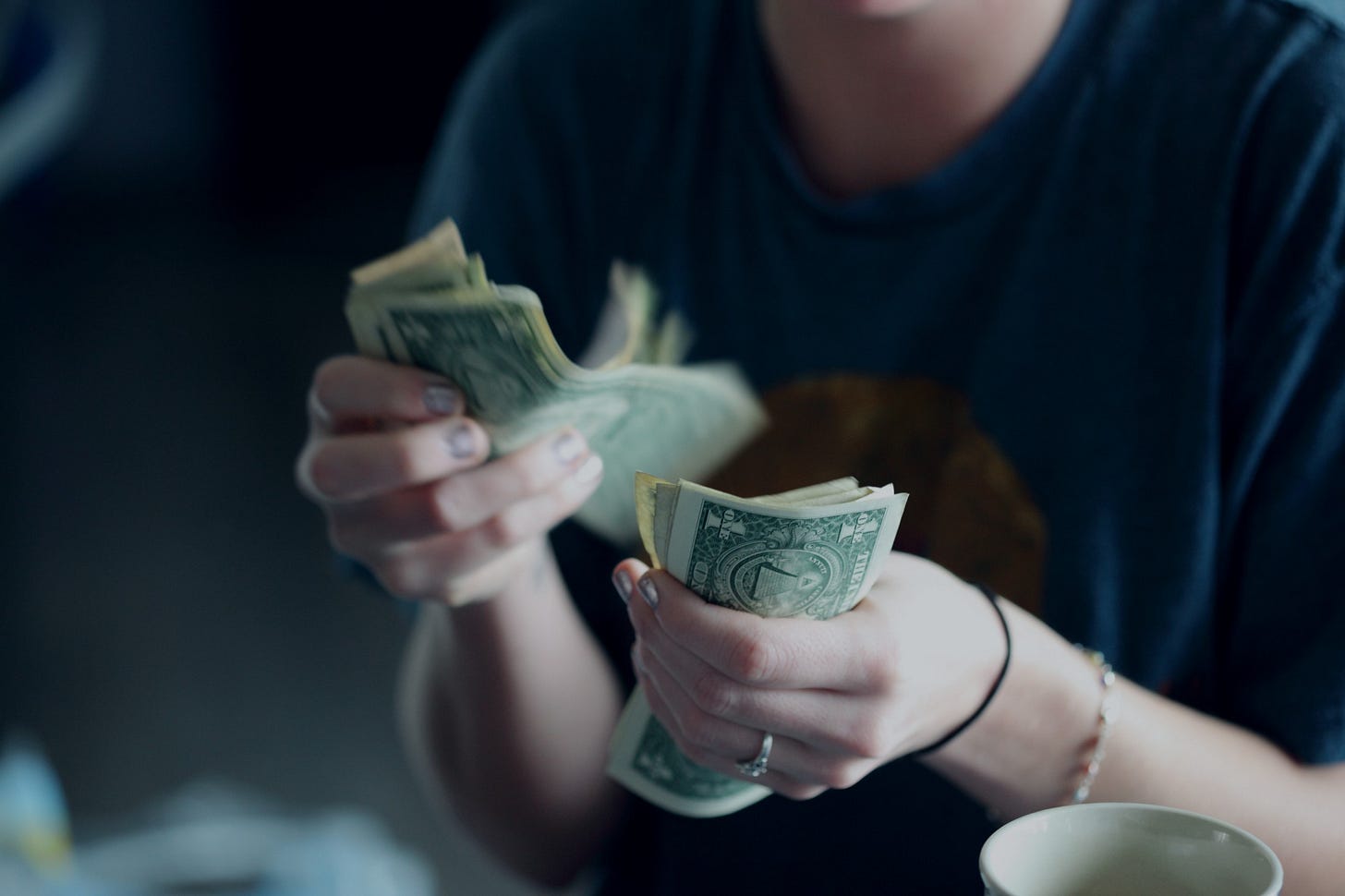 Photo by Sharon McCutcheon on Unsplash
One of the biggest struggles we creatives endure is making a sustainable living from our work. Perhaps we can begin to solve that from here…
Welcome to the Editor's Journal; A daily thought on writing, the creative process, art, work, the world and how it all goes together. Every morning I rise early, I sit here in the quiet of my kitchen and I write whatever's prominent. There's no clever headlines and no script, just open and honest thoughts. I hope you enjoy the read. If you like this article please offer some love by hitting the 👏 cheers!
If you've already read The Artist's Manifesto you'll know that exchanging art for cash, or anything for that matter, is an important principle of the document. If we can understand and follow the principle then maybe we can begin to build a successful career doing what we love.
However, it's vital that creative people like you and me rid ourselves of any negative associations around exchanging art for cash because if we don't we go broke.
Sometimes it's so subtle that we hardly notice it.
It sits at the back of our minds festering, only pronouncing itself when we encounter things we don't like.
Maybe the industry that has built up around the arts doesn't always serve artist's interests honourably. Or maybe you were burned in the past and you carry that with you.
Maybe a mentor or a parent went their entire lives broke as a pie crust and now having experienced that you hold a similar view to them.
Or perhaps your parents weren't creative and they constantly told you you'll never make a living from doing what you love.
And you believed it.
You know, sometimes all it takes is to tune out.
Finding the place where we make our best work more often may be all we need to counter the negativity.
Whatever it is for you, you'll need to find a way to burn it off or you'll play the role of the struggling artist forever.
The Artist's Manifesto

Around April last year, I published The Artist's Manifesto. It is a call to arms for all artists to return to creating art for the sake of it. I originally wrote it as a message to myself. A reminder of what I was supposed to be doing and why.
It is a request to lose the need for applause.
This overriding principle suggests that reward and recognition come as a consequence of making things from the right place.
If money, applause and recognition come first for us it is unlikely that we will ever find contentment and happiness in our work.
We will never, or rarely make something worthwhile.
It's almost like we've to lose concern for reward, but at the same time give it the appreciation and respect it deserves when it arrives.
It's a case of being in the moment of now.
Making something unique is only one side of the creative coin. Being in receipt of compensation is the other so in order to close the creative loop we've got to be in a good place to receive it.
This is a difficult thing to convey because words are so clumsy. They never manage to communicate the principle adequately.
That's why we've got to learn to feel it.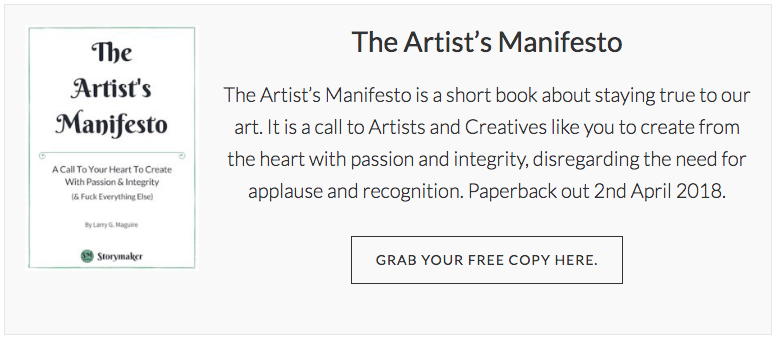 Extract From The Artist's Manifesto
The following is an extract from the closing chapter of The Artist's Manifesto. Perhaps it will help explain this principle.
Now we've learned to be quiet it's time to take our silence into the noisy world. When we spend time in solitude, when we've done the work, we can do this with ease.
We know the truth and the momentum of things has little or no effect on us. We know the world is not broken and we don't have to fix it, rather we just show up with what we've made and others will see the truth of it.
What's rare is wonderful, and people will want to be a part of it, they will want to have a piece of it in their lives.
They will be willing to exchange pounds, shillings and pence for a piece of the truth that you've made.
Even though they might not know what how significant your work actually is, something in it will speak to them and they will want to be a part of it.
We can't force this to happen, rather we must allow it.
Hold true to your creative integrity, embrace the silence of your own company and allow that creative force express itself through you. Trust it and the money will follow, doubt it and you kill it.
MARKETING YOUR WORK
The internet is the greatest opportunity for artists like us to share our work.
But we must show up every day. Learn the basic technical things you need to make the internet work for you. Take a course online or in the real world.
Write about your work, share pictures of what you make, tell your friends.
Join others and form a cooperative, do something, anything to spread your work around the world and do it every day.
Research, investigate, learn, do whatever you have to do to get your work out to people. If you are a portrait artist you would look for a gallery to show your work right?
You'd even sit on the side of the street to show your work, right?
Leaving your creations to lie on a shelf aids no one.
As I mentioned in the chapter The Artist's Duty, you must get your material out into the world.
Without doing so you rob others of the enjoyment of owning a piece of something special, and you rob yourself of the opportunity to share in that exchange.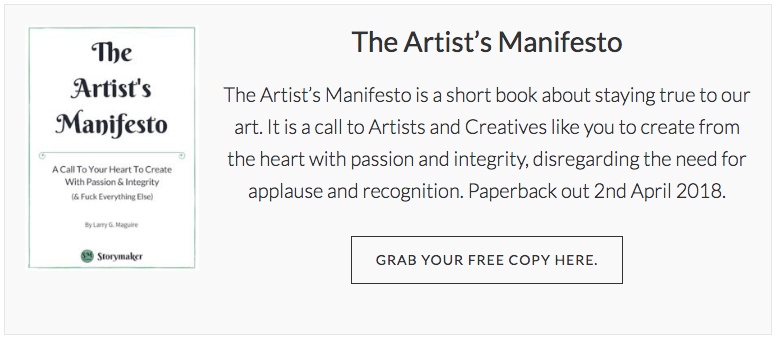 This article was originally published here on 12th Feb 2018 and sent to my readers in Sunday Letters. It has been edited and updated for publication on Medium. Join me for Sunday Letters to keep in the loop on publication of The Artist's Manifesto.

Support my work for only $1
Hook up with me here
Email | Facebook | Twitter | Podcasts | Instagram | Patreon