16 Powerful SEO Best Practices Every Smart Creative Needs To Know
If your site is on WordPress and you're not performing basic SEO then you're likely missing out on traffic. Check out these 16 detailed…
If your site is on WordPress and you're not performing basic SEO then you're likely missing out on traffic. Check out these 16 detailed steps to better SEO.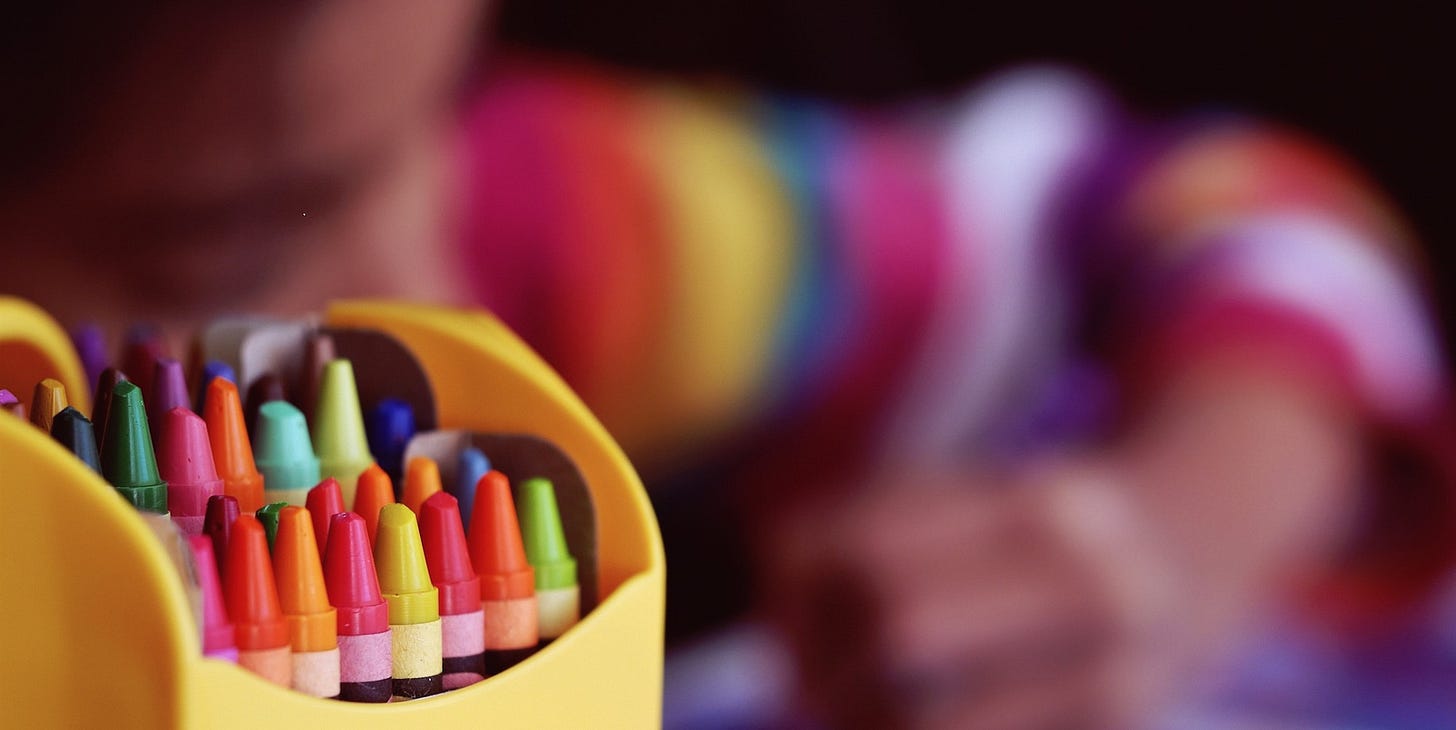 WARNING: This article is looooooooong. But it's solid information, so put the coffee on get comfortable. In the original article on my site I've got the entire thing available as a PDF if you'd like to grab it. Some links in this article, like in the internal menu and the link back to contents probably won't work like they do in Wordpress so it may be a bit annoying having to scroll through the entire thing. Also the formatting in Medium is not very flexible but I've done my best to match the original.
I'm a writer and an occasional charcoal portrait artist. I also like the technical stuff and I realise it's importance when I work online. I think it's to every creative's advantage to learn this stuff, however I realise it's not everyone's bag. So if that's the case for you I'd encourage you to do your best to apply the stuff I've outlined below. If you want to get your stuff in front of people online then you've got to get to grips with SEO. That's my view anyway.
First a story…
Back a couple years ago I was doing some web work, advising small business on SEO best practice, a builder friend hired me to build him a site.
I did some research and discovered he had a real opportunity to dominate his niche. Too many competitors sites were badly designed and poorly optimised so the door was wide open.
Almost from the word go he was ranking high on page one organically for a very strong keyword.
I was excited.
We could really make an impact because his competition (yes he was in competition) had their eye off the ball.
But he was too busy.
About half way through the project he went AWOL, everything went on hold and that site is now offline. A shame really, he lost out on a significant opportunity.
SEO can be the creatives ally, offering you a way to get your stuff in front of local and international people. In this article we will take a detailed look at where to start.
(Search Engine Optimization SEO)
Just in case you guys weren't aware; Search Engine Optimization (SEO) is the process of optimizing a website in order to positively affect its visibility in a search engine's unpaid results — often referred to as "natural," "organic," or "earned" results. In general, the higher ranked on the search results page, and more frequently a site appears in the search results list, the more visitors it will receive from the search engine's users. — Wikipedia (with a little refinement from me)
Table of Contents
Introduction — Are You Ignoring SEO?
1. Learn SEO Best Practice Fundamentals
2. Write Content For People
3. Select SEO Keywords
4. SEO Best Practice For URL Structure
5. Optimizing Page/Post Title & Headline
6. SEO Best Practice for Meta Descriptions
7. Use Internal Linking
8. Include External Links In Your Content
9. Choosing The Right Article Length
10. Fortmatting Your Article For SEO
11. Why Categories & Tags Matter In SEO
12. Optimise Screenshots & Images For SEO
13. Add Social Media To Your SEO Strategy
14. Register with Local Business Directories
15. Improve Your Page Load Speed
16. Ensuring Your Content Is Crawlable By Search Engines
Conclusion
You can download this guide here in PDF. Grab it now and read it later
Are You Ignoring SEO Best Practices?
A basic SEO strategy implemented well can offer the traffic numbers you're after. But there's a couple of things that can stand in the way for many artists and creatives;
Time — Creatives like you simply don't have the time to put SEO best practices into action. You're focused on your art.

Technology — You are Technology averse. You're are technically gifted, but digital marketing is not part of that.

Budget — You either don't have the bread to shell out for an SEO dude, or you could but you can't seem to justify it.
All of that is understandable, I've been there so I know the difficulties.
But being prominent online is vital for any creative person. Not having a strong web presence means people don't see what you have to offer.
There may be many reasons why you've not focused on SEO to date. All of them are not worth the tumbleweed that blows through your website.
The stuff I'm going to break out for you here will take a while to digest, but it's worth it.
Firstly, I'll Assume The Following
Your site is built on WordPress (and even if it's not you'll get value from this info).

You manage the backend of the site personally.

You've zero to a small level knowledge of SEO best practice.
With a little focus on basic SEO best practice you can have a steady stream of new visitors to your website.
So roll up the sleeves, let's get into it.
1. Learning SEO Best Practice Fundamentals
Before you take a step in a new direction, you've got to skill up.
You may decide to do your own SEO and that's great, but if you intend to hire someone you've got to understand the basic principles.
Take with a grain of salt any assertion from an SEO that they can get you on page one quickly, or even at all.
It may be very possible depending on the niche, but there's no guarantee.
Accept that it is likely to take 6 to 18 months of consistent and steady work to begin to see results from your SEO efforts.
If you are in competition with many others who are up to speed then it may take longer.
Here you'll get a decent breakdown of some of the most basic principles of good On Page SEO (and a little bit of Off Page SEO too).
Get these right first before taking on more advanced SEO work.
So keep reading…
2. Write Content For People (& search engines).
Creating quality content is an SEO best practice staple, and a cornerstone principle for offering content that people search for and actually want to consume.
It's not a case of people vs. search engines despite most of the commentary you'll hear. People are what drive search engines. Without them there would be no Google or Bing or whatever. If you create stuff that people are already searching for then it's in your obvious interest to formulate your content around what they are searching for, right?
Of course.
So it's not a case of creating content for people and ignoring the search engines or vice versa. You've got to combine the two. And if you already have a negative association with search engines then you'll need to make peace with that if you want people to find your stuff online.
Before creating content that people are searching for and consuming, you will want to discover the following;
A long tail keyword that indicates the searcher is looking for a specific solution.

A long tail keyword that has a good volume of searches per month. A couple hundred is good.

There may already be existing content around the keyword, and if so that's good. Your aim is to beat it on detail and value.

If there's little or no quality content then you may have a significant opportunity to give people what they cannot currently find.
An Example;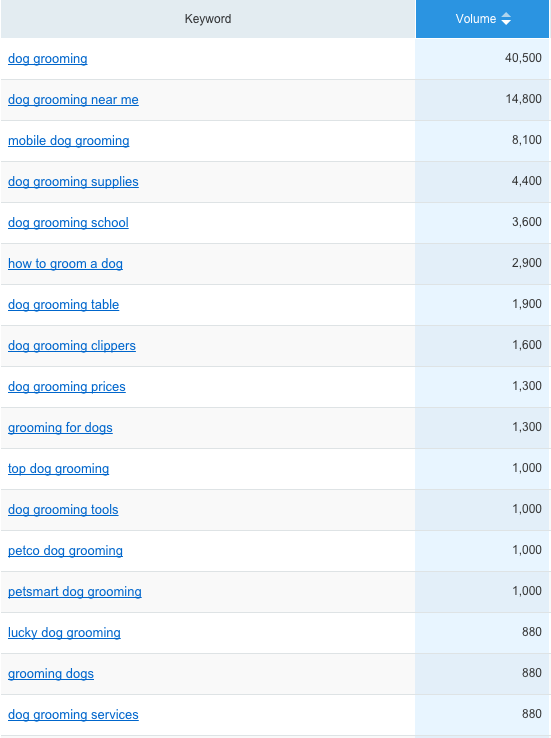 Keyword Research SEMrush
Let's say you own and operate a dog grooming business. You know dogs inside out, so there's literally tons of stuff that you can use to write helpful articles for dog owners.
Take a look at these search volumes for keywords related to Dog Grooming. There is a huge volume of searches for these Primary Keywords. This is what people are searching for, and you can rank for these terms, eventually.
To begin, here's what you need to do;
1. Pick Primary Keywords (If you haven't done it already for your business). These are keywords that relate to the core products or services you offer. They should be one or two words in length. In our case here it's "dog grooming".
2. Do A Keyword Search using Google Keyword Planner to find secondary (three or four words long) and tertiary or "Long-Tail Keywords" (over four words in length). These are keywords that are more refined and focused.
I did a quick search for a couple keyword ideas in Google Keyword Planner and I found that "How To Groom A Poodle" gets a 880 searches each month so it's got potential.
This is our Long-Tail Keyword, and from it we'll build our headline and article.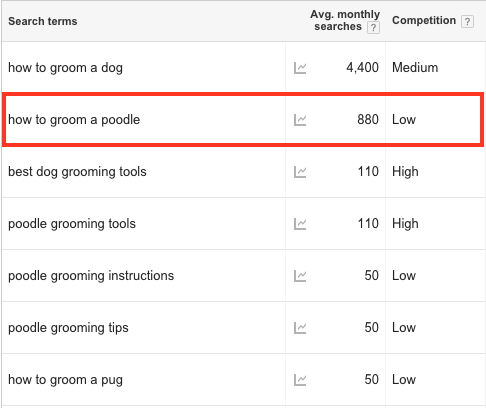 Article Research SEMrush
3. Find Existing Content. Go to Google Search to see what the quality of articles are like on page one of the results for your keyword. Gather the key points from these articles, add them to your own then expand these out in your article to provide the overall content.
After performing a search for "How To Groom A Poodle" I found that the results for this keyword are shockingly bad! Quality of site design, readability, quality of the content etc is terrible.
Good news if you run a dog grooming parlor or you're in the business of pet supplies, you can rank well for this keyword with a little work. The competition is poor at best.
Before you get cracking on your new content, here's a way to confirm the above is accurate.
Enter your keyword into Buzzsumo
Go to Buzzsumo and enter your keyword to search for content that has gathered a high level of social shares. In this case I needed to shorten the keyword to return results.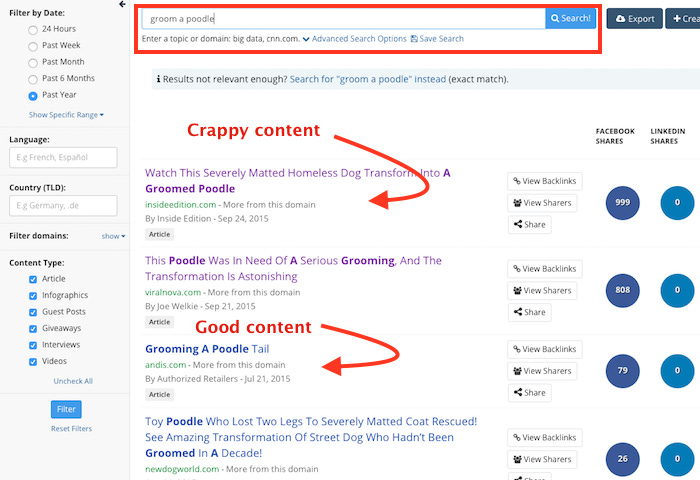 Buzzsumo Search
Open up each of the results returned and assess it's quality.
a. Is it a step by step guide?
b. Does it have photos and illustrations?
c. Does it have video?
d. Are there additional resources linked to in the articles?
e. Is there a lead magnet that you can download and check out?
f. Does any of the articles have a large number of social shares?
g. Can you produce a better quality resource than the one's you've discovered?
Again the results here proved few people are creating good content around this keywords term, even though we can see from Google Keyword Planner that there are lots of people searching for "how to groom a poodle".
The third result in the list is a series of video tutorials, which offer good detail on how to groom a poodle. This is what we want because it will allow our dog groomer a benchmark from which she can improve on the quality of the content.
It appears that this is a good keyword to run with, so now we go about creating the article.
4. Next, Craft a Headline. Head over to the CoSchedule Headline Analyser to craft a headline that communicates value. Also read this article on headlines on their blog which helps you understand the principles behind crafting a catchy headline.

CoSchedule Headline Analyser
The headline; "Everything You Wanted To Know About How To Groom a Poodle" scored a 76 so it's a good enough score.
You're aiming for a good balance across your headline and although this headline could do with a little work, it's fine for illustration here.
You should be aiming for a strong emotional link in your headlines.
5. Writing Your Article. Your article shouldn't just be a heap of words thrown on a page. Approaching it with only the desire to get it done won't allow you create a valuable piece of content, so you'll need to give it some energy. You've got to Learn How To Write An Article So People Will Read It, and that takes time and effort.
It is important to structure your article so that visitors can scan it and select the elements that are important to them. As you construct each point you want to make, break it up as I show you in below; 10. Structure Your Article Well
You can download this guide here in PDF. Grab it now and read it later
3. SEO Best Practices For Keywords Selection
As I touched on above, deciding what keywords you are going to target is an SEO first step.
Without knowing your keywords you can't create content, well you can but it will be aimless and likely not be found easily.
Good online practice thrives on good structure. You already know this through your art.
It's likely your Primary Keywords will stay pretty constant unless your business direction changes completely.
Your Secondary and Tertiary (Long-Tail) Keywords will move and change over time. Your keyword list will grow too.
For help selecting keywords for your business, follow this guide on conducting Keyword Research.
SEO Keyword Density
Experts say keywords should take up about 1.5% of your article word count. They might be right but I don't really bother with that too much.
I use the Yoast SEO plugin which gives me a green light for keyword density.
I choose to keep it natural and trust that indicator. When I get green I'm good to go.
As I said just above, keep it natural. Avoid overuse of your keyword as it will make your article read poorly. When I'm finished writing an article I go through the whole thing to see if I can add my keyword in a few more places.
Usually I can do this without being a spam head. Rule of thumb; make it read naturally.
Alt Keywords
Us alternative keywords and related keywords in your article. Experts call these LSI Keywords and say you should use them throughout your article.
Reason being is, Google relates keywords to each other based on user search patterns and the more relevant LSI keywords you use in your copy then the more relevant Google reckons your article is to a given search.
For this example, LSI keywords would be; dog grooming tools, how to groom a dog, grooming parlour etc etc. You get the picture.
Double up
When choosing your keyword for an article, keep an eye out for complimentary keywords that you can use to overlap in your headline and body of your article.
You might be surprised to find out that you can actually end up ranking for an LSI keyword that wasn't your direct intention to rank for.
Side Note: I first read about doubling up on keywords in a headline from Brian Dean at Backlinko. For detailed and helpful SEO techniques you need to check out his stuff.
You can download this guide here in PDF. Grab it now and read it later
4. SEO Best Practices for URL Structure
URL structure counts, and a poorly constructed url can affect your rankings.
Google Webmaster Tools offers a heap of valuable advice for content creators and in this article on url structure they explain the dos and don'ts of forming urls.
Long winded urls are ugly and unnecessary.
Yes, I know search results for given keywords can return results with long ass urls but the general rule you should stick to is "Keep it short and sweet".
Why?
Well one reason is search engines don't index common words (stop words), so it may be of no real benefit using them in your urls. And besides, your url will look poor.
However, if you've researched a keyword and it has a "stop word" within it, then go ahead and use it in your url.
Here's a couple other reasons to consider having short URLs for your content;
Try sharing a long URL on Twitter or other social platforms. Your followers won't be able to read it, and it is likely to be truncated anyway.

URLs communicate what the reader can expect to find on your page. "http://your-domain.com" tells the visitor exactly where the URL will take them. "/this-great-article" tells the visitor what they can expect to find when they get there.
Url shorteners are fine but I tend to avoid them where possible because followers don't get any info from the link. Keeping urls short while including your keyword is good practice so if you're going to use bitly or some other tool customise it where possible with your keyword.
A better option is to use a Vanity URL. Ana Hoffman at Traffic Generation Café offers a step by step process for obtaining and setting up a Vanity url for your website. Make sure you check out her article for more details.
What Google Has To Say About URL Best Practice
The Google Man Says;
"Overly complex URLs, especially those containing multiple parameters, can cause a problems for crawlers by creating unnecessarily high numbers of URLs that point to identical or similar content on your site. As a result, Googlebot may consume much more bandwidth than necessary, or may be unable to completely index all the content on your site."
Tips for constructing your article URL;
Keep URLs short. Under 150 characters is good.

Don't use "underscores" (_) use "dashes" (-) to separate parameters. Google doesn't like underscores.

Make sure that your keyword is at the start of your url. Example; yoursite.com/your-chosen-keyword.

Make your URL easy to read. It should convey the thrust of your article in as few words as possible.

WordPress automatically sets your post URL so make sure you edit it before publishing.

If your URL happens to be too long, then consider using a URL shortener like Bitly or use a vanity URL when sharing on socials.
5. Optimizing The Page/Post Title & Headline
Your title is arguably the most important element of your post. This is the bit that most people see first, whether that's on social media or in the search results or somewhere else, it needs to communicate the essence of your article.
Incidentally, I should point out that the page title tag is taken directly from your page name or article headline automatically in WordPress. If you want to change it, which it is common to do, then you have to do it manually.
It's SEO best practice to spend time crafting a good headline, one that addresses a specific need. Learning to Craft Emotional Headlines (that contain your keyword) is a really important skill if you want to get clicks and rank well organically.
Spend time doing the research and practice with the Headline Analyzer as I showed in above.
Word Types, according to The Advanced Marketing Institute

Advanced Marketing Institute
The Advanced Marketing Institute has a handy free tool that scores your headline on its Emotional Marketing Value (EMV).
The English language contains about 20% EMV words. Most professional copywriters' headlines will have roughly 30%-40% EMV Words.
The most skilled copywriters will have 50%-75% EMV words in headlines. 100% is a perfect score, but it's unlikely that you'll score that high.
Tips for crafting headlines that get clicked;
Practice using emotional words. I refer to a spreadsheet of power words every time I write a post.

Try the Advanced Marketing Institute Headline Tool to test your headline's EMV score.

Use lists in your headline. People love lists and list posts are some of the most easily consumed and shared.

Use How-To headlines. Your readers want to learn from you, so show them how. Create how-to tutorials.

Capitalise the first letter of each word in your headline. (Yes I know that one's pretty obvious, but some don't do it).

Use the H1 tag for your Title Tag. WordPress mostly does this by default but some themes don't so make sure to check this.
You can download this guide here in PDF. Grab it now and read it later
6. SEO Best Practice For Meta Descriptions
The Meta Description is a short piece of text delivered in the search results that tells your visitors a little of what your page is about. It appears as the grey coloured paragraph below the blue page title in Google.
If the page title is the headline, and the green bit, (usually a url) is the subhead, then the Meta Description is the intro paragraph. It's an area of text that you will use to draw your reader into your article.
So it's gotta be good.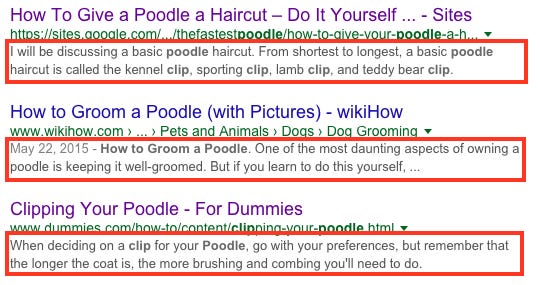 Doing the research
Google said in 2009 that Meta Description is not a ranking factor, but that doesn't mean we ignore it. It's sales copy and has to communicate what your page is about.
If you don't add a Meta Description to your article or page then the search engines will probably grab one from your page by default. It's unlikely to be flattering so write your own.
You can of course check your Meta Description with the Yoast SEO plugin from within your WordPress post editor, but if you don't use Yoast SEO or you're not using WordPress, you can still check how your listing will look in the Search Engine Results with the free SERP Preview Tool from Portent.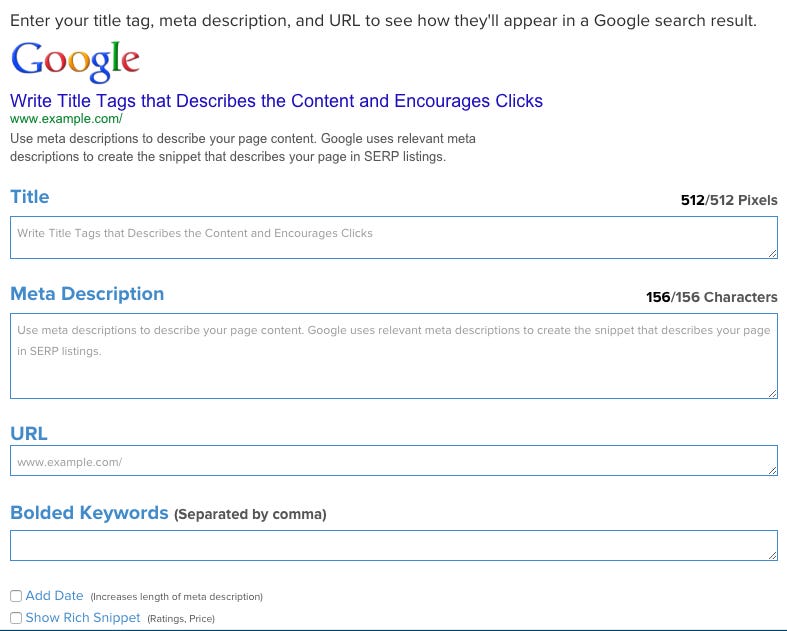 Portent SERP
Here's how our Poodle Groomer's article might look in a Google search result;
Google search result
Tips for creating meta descriptions;
Write a Meta Description, don't leave it to the search engines to add it.

Make each meta description unique, in other words don't duplicate the same meta description on another page.

Ensure your keyword is included at least once.

Detail in the Meta Description a summary of what the visitor will learn from your article.

The Meta Description acts as sales copy, so use it to draw your reader into your article.

Social Media Platforms like to grab the Meta Description for posts, so keep that in mind.
Marcus Sheridan in this article on The Sales Lion offers some sound advice for how to write good meta descriptions not only where technical SEO is concerned, but also from a sales copy perspective.
You can download this guide here in PDF. Grab it now and read it later
7. Use Internal Linking
Internal links are hyperlinks within the body of your content that link to relevant pages throughout your own site. Linking out pages on your own site to each other is an SEO staple and you should look for opportunities in your article to do this.
If while writing you see an opportunity to add an internal link then go ahead and do it. After you've finished writing you should also take an opportunity to run through your article again and look for others.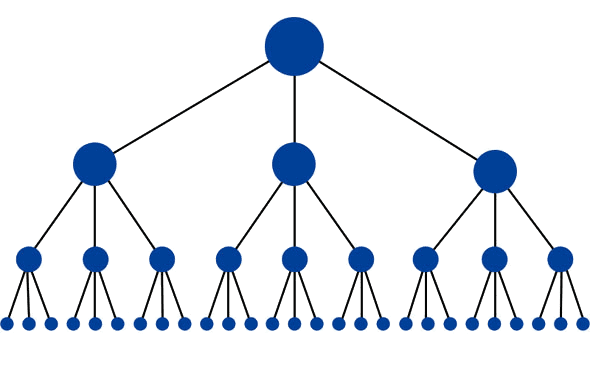 Page hierarchy
Internal links help tell Google what your site is about. Using them strategically allows you to build a systematic structure to your content that helps massively with SEO.
Link to products and services and make them contextual. That means the text you choose to use for the link should have relevance to where the link points.
For example; If I want to link to a recent article from Nathan Gotch about Internal Linking that's how I'd do it. Nathan has a great resource so be sure to check out his article for further info to help you better create internal linking on your website.
You can download this guide here in PDF. Grab it now and read it later
8. Include External Links
External links, or Outbound Links, are links on your site that point to relevant resources on other websites. These should be to trusted sites with good Domain Authority.
We're not talking about backlinks here, backlinks are links to you from other sources. Backlinks to your site are important but we're not going to get into that here. We'll stay with the elements that you should do first.
As with internal links, make sure your outbound links are contextual and take readers to resources that further expand on the topic you're are detailing.
Do Follow/No Follow Links
I don't think you have to really concern yourself too much about follow/no follow links but you're bound to hear about them in your research so best to mention them here.
In WordPress links you add will automatically have "do-follow" attributes added. It tells Google to give what's called "link-juice" to the link source.
Likewise, when others link to you, you receive "link-juice" as a result, as long as those who are linking to you make that link do-follow.
The whole do-follow/no-follow thing comes into play for you if you begin to search for backlink opportunities from other reputable sources.
A Note About Adding Links In WordPress
When adding links from within the WordPress editor, make sure that you check the box that tells the link to "open in a new window".
Why? Because you want your article to remain open. If you don't do that your reader can be taken off on a tangent and forget that she was ever on your site.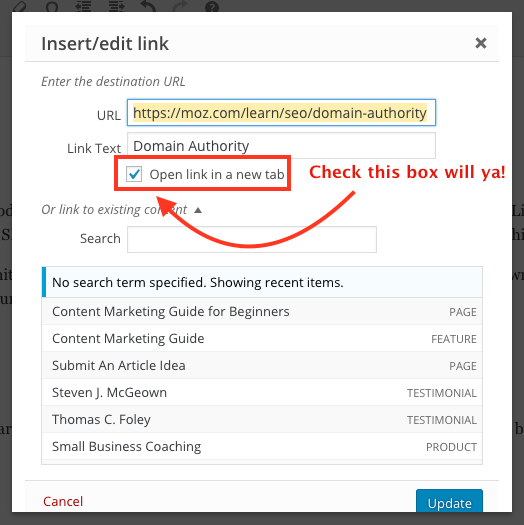 Open links in a new tab
Now there might be some Analytics nerd that has an opinion about that, or maybe there's some SEO thingy I've missed, but for me, I want my page to remain open so the reader can go back to it easy.
If there's some technical SEO reason or otherwise, not to use the "_blank" value in links then I'm sure someone will let me know. In the meantime my advice is open all external and internal links in new window/tab.
For further reading about external linking from your articles check out these resources;
External Links SEO Best Practice from Moz
RankWatch No Follow Do Follow Links
What You Need To Know About Follow Links & No Follow Links
You can download this guide here in PDF. Grab it now and read it later
9. Choosing The Right Article Length
If you are going to provide helpful tutorial and how-to type articles to your readers then your posts should be detailed and are likely to be long.
All good there.
Some research like this from SERPIQ suggests search engines like long content. Lots of sites have jumped on the back of this research and come out saying that this is fact.
But that's not necessarily true.
Anecdotally speaking, I'm searching Google all the time and I've had the shittiest results you could imagine come up on page one of the results — really poor quality content.
Although the SERPIQ study does recognise that long format content seems to be favoured, they also acknowledge that this is not a hard and fast rule.
As far as I am concerned long content works because I can generally assume that a 3000 word article has a lot more detail on a topic than a 500 word article, and if I want to learn something then I want more detail.
Obviously the quality of the content is important, but the user has to make that judgement for themselves.
One of the keys to creating good quality content is to have a willingness to offer value and detail in your articles. If you can do that with 500 words then fire away.
If it takes you 10,000 words then fire away too, you get to choose. However, keep in mind that data driven articles seem to be a winner all round.
You can download this guide here in PDF. Grab it now and read it later
10. Structure Your Articles For SEO
I've gone into the merits and structure of a properly structured blog post before so I'm not going to burst into that detail again here, but suffice to say, your material needs to be scannable.
Most people want to scan your article and pick out the key points. I know when I find an article I want to read that's what I do.
Here's what Nielsen Norman Group said about scannable copy;
A study of five different writing styles found that a sample Web site scored 58% higher in measured usability when it was written concisely, 47% higher when the text was scannable, and 27% higher when it was written in an objective style instead of the promotional style used in the control condition and many current Web pages. Combining these three changes into a single site that was concise, scannable, and objective at the same time resulted in 124% higher measured usability.
If I see only long ass paragraphs of size 9 font and no subheads or bullets I just click away, because I guess the writer just couldn't be bothered to break down the content so I could digest it.
Here's a few tips to structuring your posts;
Use a strong headline. Your headline should explain what the reader will gain from reading your article.

The Introduction. Your introduction should outline the problem and benefit to reading the article. It should also lead the reader into the main article

Use subheads. Subheads help break out the higher level points you want to make.

Paragraphs. Go for short, one or two sentence paragraphs.

Use bullets and numbering to further break up your points and steps.

Add Relevant Images and screenshots to break up the content and illustrate various points.

Use Quotes from trusted sources, again to break up content, but more importantly to back up your assertions.

Try Click To Tweet from CoSchedule. It allows you to add key takeaways to Tweet boxes so your users can share your stuff.

Conclusion. Offer a summary of main points and how your reader can take a next step result they are looking for.

Make an offer. What do you want the reader to do next? Download your document? Signup for your newsletter? Buy your product?
You can download this guide here in PDF. Grab it now and read it later
11. Why Categories & Tags Matter In SEO
Every page on your site should have relevance for your visitor, if not then this is what you should strive to reach. Therefore Post Categories and Tags play an important role in your small business seo plan.
Where categories are the list of contents, Tags serve as the index of your site's entire content. Categories and Tags do come up in Google Search so make sure you have a good structure in place.
Category and Tag Structure
Select categories that relate to your primary goods or services. I don't use sub-categories on my site, but if you will, then choose as per your goods and services.
Your main categories will generally stay the same with sub-categories perhaps being added occasionally. Take your time to choose carefully, as these are the means people will use to navigate and search your site for what they want.
Make sure whatever you choose represents your overall business offering.
For our Dog Groomer for example;
Dog Grooming Products

Dog Grooming Brushes

Short Hair Brushes

Long Hair Brushes

Dog Shampoo

Dog Clippers
Tags don't have a hierarchical order, so use them as a means to index your services. For example;
Poodle

German Shepard

Collie

Bathing

Coat

Care
In the Yoast SEO Plugin there are a couple of settings you may need to modify depending on your site structure.
To modify how the search engines see your categories and tags, go to; admin > yoast seo > titles and metas and check the box beside no follow no index if you don't want the search engines to return these in search results.
I suggest leaving the following unchecked.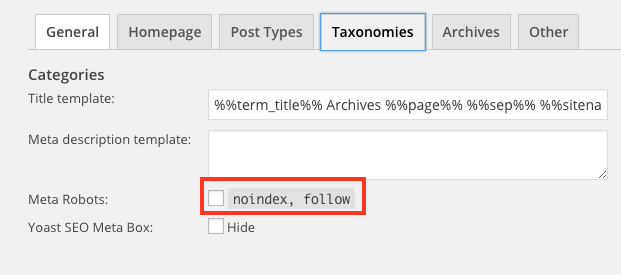 Yoast taxonomies
Also in the Yoast plugin there is the XML Sitemap section, where you can edit what information is sent to the search engines via your sitemap.
If you want to exclude data go to; admin > yoast seo > xml sitemaps and enable the XML Sitemap function. You can then choose what (if any) data to exclude.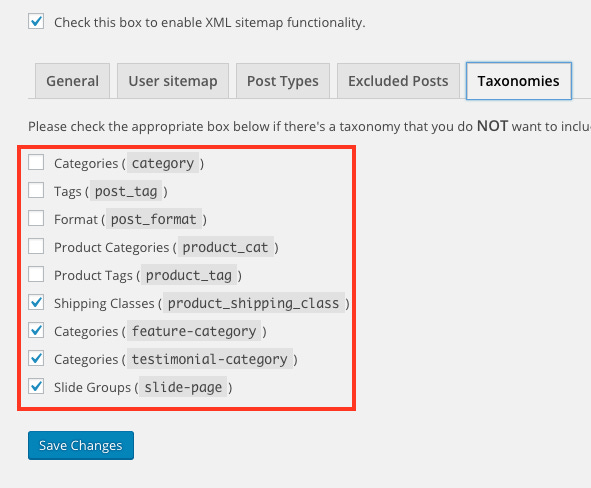 Yoast Taxonomies
For more on on this get a look at these resources;
This post from managewp on Categories and Tags.
Or head over to Yoast for more on their plugin
You can download this guide here in PDF. Grab it now and read it later
12. Optimise Screenshots & Images For SEO
Optimizing images is something that many small businesses don't bother doing. Not doing it impacts your SEO negatively so my advice is to go back through your media library and optimize your images as per the following;
Important Note: Forget about stuffing image tags full of your keywords. The Google man doesn't like it and you'll be penalised. K.
Relevance
Make your images relevant to the article. Avoid crappy stock images that the entire web seems to be currently using, and try choose something unique.
I use canva to create my own images or take a free stock image and customise it. Canva is a great resource so if you're not using it you should check it out
Also check out unsplash.com for free high quality stock photos.
File Name
Ensure the file name of the images you use relate to the main keyword you choose for your article. Make the main post image reflect the main keyword and other images throughout the post relate to LSI keywords.
Title Tag
The title tag usually will be taken from the file name, so make sure you edit the file name before uploading to your post or page. If you need to edit the title then you can do so in the media uploader in wordpress before adding to your post.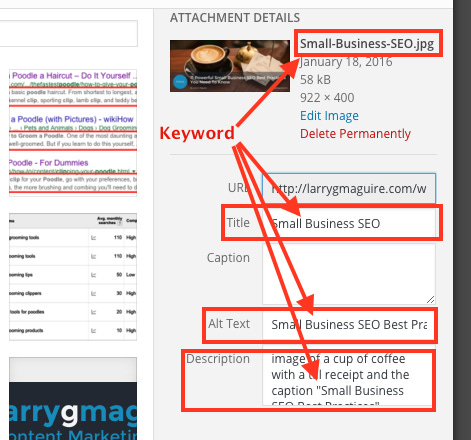 Image optimising
Captions
Sometimes I don't use captions because it throws out the layout of my post or just simply doesn't look good. However, by all accounts captions help your readers scan your content better, and I'm happy to go with that.
They also allow you to reference each image you use in a way that helps the flow of your article; fig 1.0, fig 2.0 etc. so when deciding what caption to add to an image, think about your keyword, or related keywords and try to use these.
Captions may not be a direct influence on SEO performance but they can affect the time a user spends on your site so make sure you at least give using them some consideration.
For more on best practice using images in your posts, check out this article from Google Webmasters.
Image Alt Text
In short, when you hover over an image in a web page the alt text shows up on the screen to tell you what the image is.
The Google Man Says;
According to the W3C recommendations, the "alt" attribute specifies an alternate text for user agents that cannot display images, forms or applets. The "title" attribute is a bit different: it "offers advisory information about the element for which it is set."
Google doesn't see images, it only sees the metadata associated with the image. So you need to optimise that meta data so that they know what your image is about.
If you have a bunch of images on your site with shoddy or no metadata present, that gives Google mixed information and negatively affects your SEO.
Make sure to add the Alt Text and other metadata to all images.
Image Description
Give a long description of what's in the picture you use in your post.
If the filename is; Large white poodle
The long description would be; Large white poodle being being groomed by a professional dog groomer.
Nothing much more to say about it really, just don't leave it out.
Image Link (If applicable)
If your image refers to a reliable resource, add a link to it but make sure the link relates to the file name, alt text and description of the image.
Google will rate text based links higher than image based links, but at the same time it's good to know that Search Engine bots can't see images, only the tags that you use to describe them.
So the message here is; add a link to an image if you want, just make sure that the tags mentioned here are relevant.
Image Size
Please don't add full size images to your site without first resizing to suit your content width, i.e. if your content is displayed 700px wide then size your images to that width.
Also, use an image optimization plugin like smushit or EWWW to strip out unnecessary data from your image and deliver them quicker.
Another tool you can use to optimize your media is a Content Delivery Network (CDN) like MaxCDN. This tool also helps deliver your media faster too.
Before I moved my sites to WPengine service I used MaxCDN for content delivery. Setup can be a little tricky but the result is very similar. WPengine has a CDN built in so not tricky setup.
Include Images In Sitemaps
Firstly, a sitemap is a file that lists the web pages of your site and gives Google and other search engines information about the nature and structure of your site content. Search engine bots read this file to more intelligently crawl your site.
I use the Yoast SEO Plugin to submit my sitemap to Google but you can use other plugins to do this. Once submitted successfully, Search Console will give you feedback on the status of your sitemap.
WordPress automatically includes your images in sitemaps so you don't need to worry too much about it, just make sure that your sitemap is successfully submitted by logging into Google Search Console.
Here's what you should see;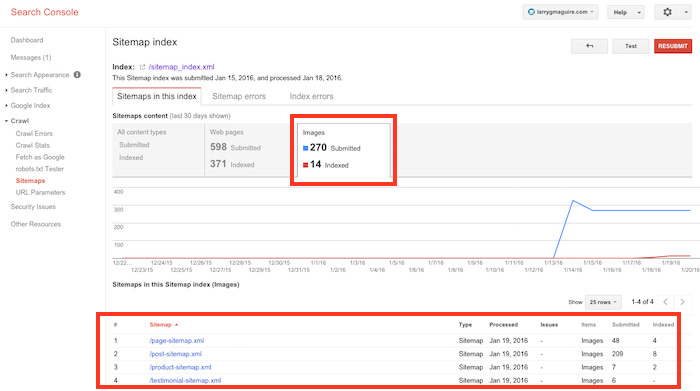 Google search console
Click on the Sitemap Errors tab, make sure all is in order and if there are any issues, clear them and resubmit your Sitemap.
If you still have issues, check out this article about common Sitemap errors from Yoast.
I have a lot of regard for people like Neil Patel and the valuable knowledge they share, and in this article he offers some detailed advice regarding image SEO that you should follow as much as possible.
You can download this guide here in PDF. Grab it now and read it later
13. Add Social Media To Your Small Business SEO Strategy
The big question facing SEO professionals right now is whether or not Google takes Social Media signals into account when ranking websites and web pages. The short answer is it's unclear.
Matt Cutts from Google said this on 22nd Jan 2014;
"To the best of my knowledge, we don't currently have signals like that in our web search ranking algorithms"
Now that's a little weak for me, so he either didn't know at the time the video was recorded or they were still figuring things out and didn't have a definitive answer. Maybe they still don't.
Whatever the answer is, right now Google does in fact return Facebook and Twitter posts in their results, even if they don't count them as signs of a website's authority.
I was searching for SEO articles on sumome.com here what I got back;
Google Search
An effective small business SEO strategy isn't simply about optimising for Google, Yahoo and Bing, it's also about the social search engines like Facebook, Twitter, Pinterest and so on.
Maybe you hadn't considered it before, but these platforms are enormous search engines and you need to make your business presence there strong.
Most of you will have social profiles, and you might share articles and other content there occasionally, but are you really making best use of your connections?
I'm making the case that social is the new SEO. — Neil Patel
Neil Patel makes a very convincing case for us to take social networks very seriously when it comes to SEO. He continues by saying;
Social is still a valuable channel for promotion, content, distribution, virality, and sharing. Social is still a crucial aspect for search even if it doesn't register as one of Google's many algorithmic ranking factors.
Taking your presence on social media channels seriously is definitely something you will need to ad to your small business SEO strategy. The key thing to remember is that it is likely to be impossible for you to be strong on any more than one or two.
My advice is to focus on one channel initially and learn how to work it inside out, then when you develop and perfect your system there, focus on being expert at another.
Tools For Your Website
SumoMe Plugin
Install SumoMe, Tools To Grow Your Website Traffic. This is a WordPress plugin that helps you grow your email list and encourage social sharing and it's really easy to install and configure.
I use SumoMe on all my sites and I like how easy and clean it is to use, however there's a right and wrong way to set it up, so make sure you follow the tutorial emails when you sign up.
SumoMe have plenty of great articles like this one to help you get the most out of the plugin and grow your following, so I definitely recommend you check them out.
Out of all the list building social share plugins I've used over the years SumoMe is the best (and Noah Kagan is not even paying me to say that…yet :-)).
Yoast SEO Plugin
Install Yoast SEO. It sets up all the code you need on your site for optimization of articles and associated images for sharing on Social Media.
Yoast already has all the detail you need about Social Media Optimization in this post so go check it out and install Yoast SEO. It just takes care of so much of what you need.
Check out these resources for further information on Social Media and SEO
18 Social Media SEO Resources to Improve Your Search Ranking
Social Media & Ranking In Search Results
5 Things You Need to Know About Social Media & SEO
You can download this guide here in PDF. Grab it now and read it later
14. Register with Local Business Directories
One really effective thing you can do to help land your site at the top of the organic search results is to register your business with Google Business and other directories. It's a simple process that only takes a few minutes to do, and is great for local SEO.
Here's some other sites you should add your business to;
While we're on the subject of business details, it's a good small business SEO tactic to have your business name, address and contact details on every page, usually the footer works well.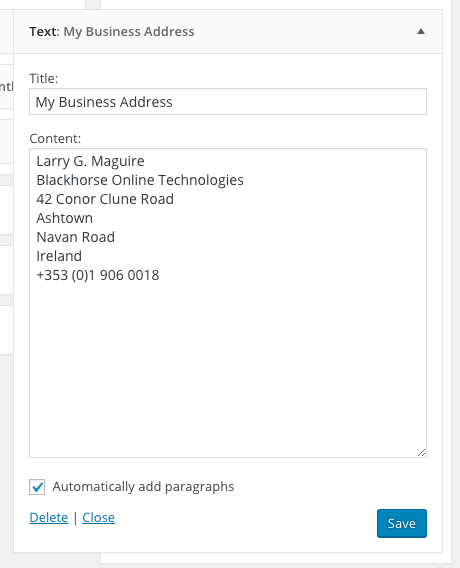 Adding your address
Go to your "Appearance" tab in the WordPress admin area, then "Widgets" and add a text widget to the footer area of your site, tick the "auto add paragraphs" checkbox and include the following on separate lines;
Your Business Name
Address line 1
Address line 2
Phone Number
You can download this guide here in PDF. Grab it now and read it later
15. Improve Page Loading Speed
Page speed is big and although getting pagespeed optimized isn't necessarily easy, it's something you'll need to nail down in order to avoid search engine penalisation.
The first port of call is to head over to Google Page Speed Test and check your site on both mobile and desktop.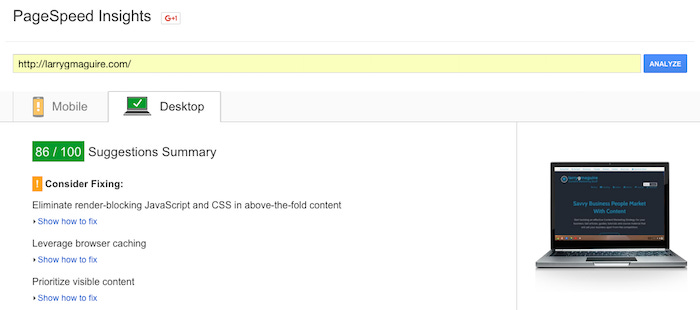 Desktop page speed test
I didn't do too bad here, but there's some work to be done to get that number up a few points. Anything above 90 I'm very happy.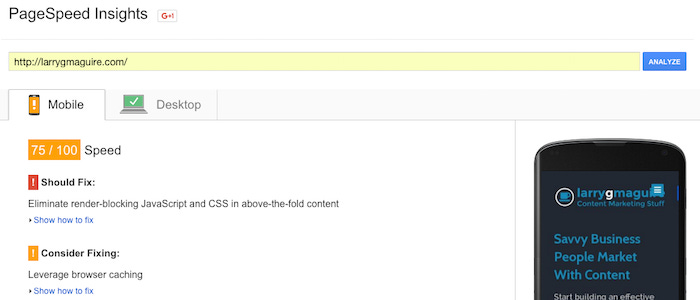 Mobile page speed test
On mobile I didn't do as well, so more work to be done there.
However, the real test is to just take out your mobile and see how long your site takes to load.
If your web pages are dragging their ass, (like mine was before a recent rebuild), then you've got to do something about it quick smart.
At a Google Breakfast Briefing I attended last summer, the speaker announced that recently mobile had overtaken desktop in terms of quantity of searches performed for the first time. Check out the data from ComScore.
So mobile optimisation is vital to get right if you want to be found.
Choosing Themes and Plugins
Theme and plugin choice is big when it comes to page speed, so if you have a WordPress theme installed that's heavy and poorly built, it can negatively affect the loading time of your site.
I addition, choosing unpopular plugins because they are free is a poor strategy because many of them may be incompatible with each other and developers don't update them regularly.
So my advice is always use themes from trusted providers of WordPress themes and plugins and avoid those that are free and have a low use count.
I also went to GTMetrix and ran my site through their Page Speed Tool and here's how my site scored;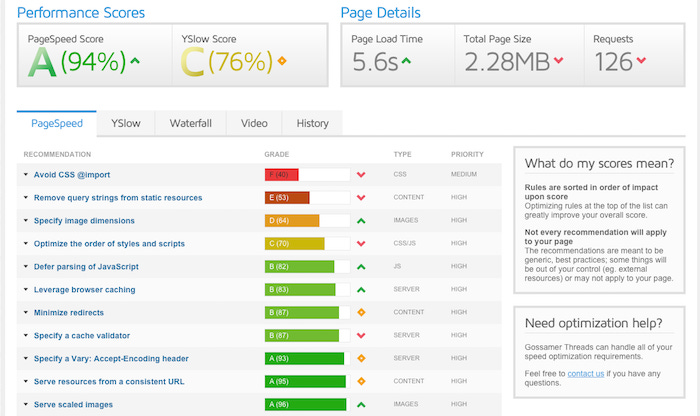 GT Metrix
Page Speed is something I need to work on myself so rather than advise you guys on what to do I'll just slip off out the back door here and leave you some resources that you can refer to to get that page speed nailed!
Page Speed Resources;
You can download this guide here in PDF. Grab it now and read it later
16. Ensuring Your Content Is Crawlable By Search Engines
Whether you are building your website yourself or a web dev dude is doing it for you, you'll need to ensure that the text and links are crawlable.
Your web pages are created using html text with relevant links to other pages on your site and on other sites. The Big G doesn't like flash, so avoid creating content on your website using flash because Google bots can't read it.
Here's an example of how you see a website in your browser
What you see
Here's what Google sees
What Google sees
Another reason why your content may not be reachable by the Big G is that you have it hidden behind a login or other subscribe wall.
If you have premium content on your site that you need to make available to members only, then it may well be that Google can't see it either.
That's ok if you don't want to rank for that content, but if you do, then bad buzz, you lucked out. Unless that is you choose a plugin like this one that allows the search engines to see it (so the developers claim).
Always check with your plugin documents for clarification on this point because you don't want to hide content that you intended to use to gain traffic.
Images
As noted above in point 12, optimising images allows Google and other search engines to see a text version of your image and index it accordingly, so not optimising images can mean your site can be penalised.
Neil Patel from Quicksprout offers a very concise, advanced breakdown in this image SEO article for how images should be optimised for search engines so check that out for more.
Audio
Include a transcript, summary or other written account of your audio file, because Google can't hear your file so make sure that your text description is detailed enough to afford good SEO, and the same goes for video.
Conclusion
Lots of SEO best practice advice will tell you to write every week. Keep your content fresh because search engines such as Google like fresh content over older content, and that might be true.
However, there is a lot more that comes into play before age of the content affects rankings in the search results.
It also depends whether or not the information is considered "evergreen".
For example; 10 year old article on SEO strategy may be largely outdated, but how about when it comes to an article detailing how to groom a poodle?
Some types of content stay relatively fresh and relevant for long periods. That's the type of stuff you should consider creating on a regular basis because you know readers will always get value from it.
I Advocate Creating Regular Content
I do agree you should create regular content, but only because you want to provide current, relevant content that your readers can continually reference.
Don't swallow the belief that you need to be writing every week or every day just for the sake of it. Write because you have something to say, otherwise your content may end up being empty and pointless.
Put the needs of your readers first, then create a simple editorial plan that breaks out your commitment and follow it as best you can.
Create articles and static pages on your site that provide the information your readers need, and demonstrate your expertise and willingness to share your knowledge.
Use these SEO best practices to optimize your online offering and f you do it consistently you'll gain traffic and leads, and your creative business will grow.
Here are some helpful beginner SEO resources you should bookmark and read later;
200+ Actionable SEO Tips from Ahrefs
The Complete List of SEO Tools from Backlinko
The Beginner's Guide To SEO from MOZ
SEO: A Comprehensive Guide For Beginners from Kissmetrics
Smart Insights B2B SEO Best Practice
You can download this guide here in PDF. Grab it now and read it later
Originally published at larrygmaguire.com on May 2, 2017.

Howdy, I'm Larry, Writer & Artist. Thanks for taking the time to read my stuff. I write short stories about the ordinary lives of people and the challenges they face. My stuff can be edgy, hard hitting, and sometimes controversial, but never contrived. If that's your bag you can Sign-up To Sunday Letters Here.