014 - You Want It To Look Good, Don't You?
Creative insight from a 10 year old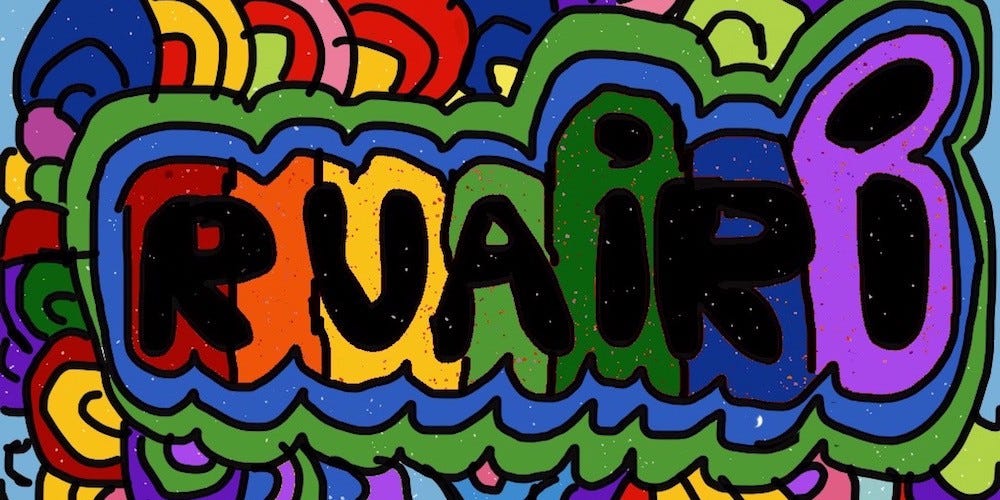 Image by Ruairí Maguire
Creative insight from a 10 year old
Welcome to the Editor's Journal; A daily thought on writing, the creative process, art, work, the world and how it all goes together. Every morning I rise between 5 and 6 am, I sit here in the quiet of my kitchen and I write whatever's prominent. I have a bunch of article ideas saved, so I'll either pull from them or write something new. I also write at larrygmaguire.com. I hope you enjoy the read.
A tradesman once told me…
"Anything worth doing is worth doing right."
Solid advice I've never forgotten, and yesterday I was reminded of that maxim in creative endeavour from an unexpected source.
We were all together in the kitchen, me, my wife and three kids. The boys were getting ready for their cousin's 9th birthday party and my missus was shaping up for one of those 3 hour hair appointments that I will neither ever require or understand.
She was running late and needed to leave pronto.
My eldest son Ruairí was drawing his cousin's name on the envelope of the birthday card and was offering a tremendous attention to detail to the task.
He's following my creative path in many ways. Loves to draw and to read. His appetite for reading is insatiable.
800 page Harry Potter books are devoured in a week. The entire works of Roald Dahl have been consumed twice over and we're struggling to keep him in reading material.
He's a bright kid and I love that he's into these things.
Anyway…
He's beavering away at the design on the front of the card, kind of similar to the featured image of this post, and his mother says;
"Ruairí you're wasting your time. The envelope is just going to end up in the bin. Just write his name on it and let's go."
His response was awesome and something I wasn't expecting. Afterwards he told me he just made it up on the spot. Maybe he did, maybe he didn't but it meant a lot to me.
Head down, eyes to the task of the design he said;
"Mam, it's like making a cake, you want it to look good even though you're going to eat it."
The Artist's Manifesto is a short book about staying true to our art. It is a call to Artists and Creatives like you to create from the heart with passion and integrity, disregarding the need for applause and recognition. It's available from 13th May 2017. Grab your FREE copy here.
Like Some More of This Kind of Thing?

Howdy, I'm Larry, Writer & Artist. Thanks for taking the time to read my stuff. I write about art & creativity. When I'm not doing that I write short stories about the ordinary lives of people and the challenges they face. My stuff can be edgy, hard hitting, and sometimes controversial, but never contrived. If that's your bag you can Sign-up To Sunday Letters Here.