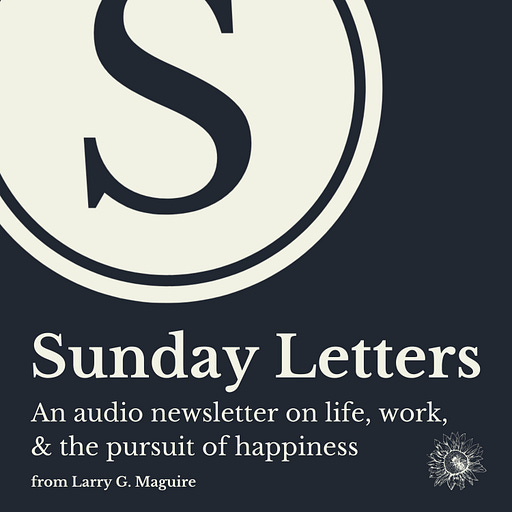 Jul 4, 2019 • 53M
EP185 A Question of Free Will
The Sunday Letters Podcast is the weekly audio newsletter from organisational psychologist Larry Maguire on the meaning & purpose of daily work and our paradoxical relationship with it. We explore how we may break free from tiresome means-to-an-end labour and take command of their own working lives. Topics include solo working, careers, entrepreneurship, small business economics, society and culture. Content follows the written newsletter, which goes out to subscribers every Sunday.
Read more here; https://larrygmaguire.com/illusion-of-free-will
Me and the big Russian, Dmitri Belikov hooked up last week for the first of a joint discussion on a chosen topic. This week it was Free Will. Do we have free will or are our lives determined by external forces? Are we in control, or are we not? It's difficult to form a consistent and long-standing answer because there are valid arguments for both free will and determinism. However, we give it a go.
Later in the week I got some of my own thoughts on free will down. Here's and extract; Everyday events seem to be under my control. For example; I can decide that I want to see a band, meet friends and have a few pints, and in that way broadly determine how my Sunday afternoon will play out. But next week, next month, next year and so on, I cannot dictate. I cannot dictate the day that I die or how that eventuality will play out, although I do accept that I seem to have a certain degree of influence over it. In the space between my birth and death, I can influence my general health by making good food and exercise choices, for example. But that too appears of little consequence given the nature of this lottery we often regard life to be.
There seem to be far too many moving parts, most of which I am not aware, influencing the direction of my actions and life experience. My degree of control seems limited. When I make plans for holidays, socialising, attending classes, training and so on, there seems to be ease, a naturalness. There's no forcing myself to do what I need to do. Other times, for other larger "goals" there seems to be a different feeling. Writing this article, for example, is difficult but there's a feeling that it must be done nonetheless. So I do what I need to do, and although not always as efficiently as I'd like, it still gets done. Am I making that decision to do the work or is it being made for me? I can't tell.