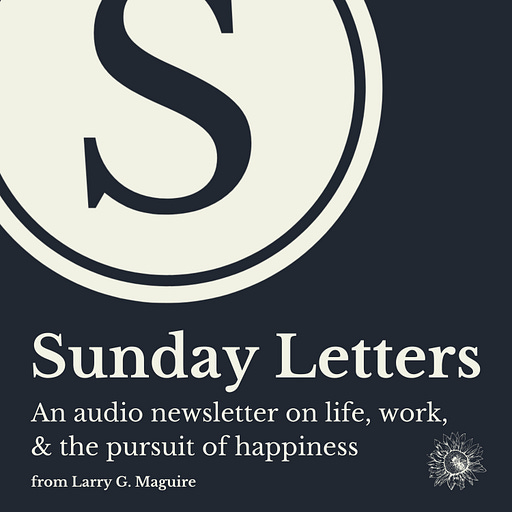 Jun 27, 2021 • 27M
206 Suicide (Declan Was A Friend of Mine)
The Sunday Letters Podcast is the weekly audio newsletter from organisational psychologist Larry Maguire on the meaning & purpose of daily work and our paradoxical relationship with it. We explore how we may break free from tiresome means-to-an-end labour and take command of their own working lives. Topics include solo working, careers, entrepreneurship, small business economics, society and culture. Content follows the written newsletter, which goes out to subscribers every Sunday.
Declan was a friend of mine. He was a good looking bloke, tall with dark skin and dark hair – the kind that girls noticed. He was loud too, and when he got going, everyone knew he was there. He was the quintessential extrovert. In contrast, I was quiet, reserved, pretty ordinary in the looks department as far as I was concerned, and had little confidence around the opposite sex. I was better one to one than in groups, so I kept mostly to myself in the early weeks at the training centre. I wasn't a showman like Deco. He oozed confidence and had a laugh that made people turn around. For some, he was too much, but we got on well. We were a good fit. As the memory of him enters my thoughts these days, I think that maybe he wanted to be more like me, and I wanted to be more like him than we both cared to admit. Maybe life experience had made both of us fragile, and we merely developed different means of coping. I think that coping mechanisms constitute a large portion of what we call personality.
We both lived close by, so it was easy for us to become friends. We'd meet on Willow Park Road in the mornings and walk to Cedarwood, through the gate at Popintree Park, diagonally across the soccer pitches and over the railings to the centre. Then home again in the evenings. On Fridays, training courses finished early, so we'd take our merge allowance, buy a few smokes, drifter bars and cans of Coke, and head for the snooker hall in Finglas for a few hours. He was a soccer head, and I played Gaelic Football, so we'd slag each other's respective games. He'd say Gaelic was a stupid game and had no skill. "Sure, you can kick a ball over the bar from anywhere all day," he'd say, "there's no skill in that." Then laugh his head off at me. No matter what I said, I could never convince him otherwise. I enjoyed those days.
--- Send in a voice message: https://anchor.fm/sunday-letters/message