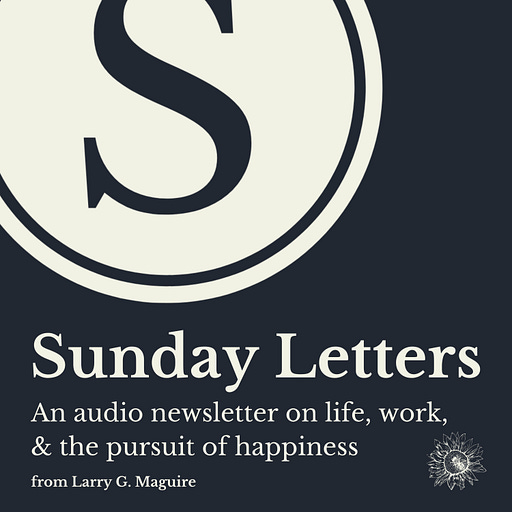 Jun 21, 2021 • 17M
204 Time & Space
The Sunday Letters Podcast is the weekly audio newsletter from organisational psychologist Larry Maguire on the meaning & purpose of daily work and our paradoxical relationship with it. We explore how we may break free from tiresome means-to-an-end labour and take command of their own working lives. Topics include solo working, careers, entrepreneurship, small business economics, society and culture. Content follows the written newsletter, which goes out to subscribers every Sunday.
Time and space are important in creative work or, in fact, any work. Any work worth doing can be a creative outlet, but whatever it is, it needs time and space. We like to admire great works of art, and we believe there is something special about the people who create these things. Something special over and above ourselves. We couldn't possibly come up with something as unique and beautiful as that. We're inclined to keep moving, keep making whatever it was they taught us, and keep taking their dollar for our trouble. We're too busy, you see, being something else to someone else and rarely anything ourselves. We have jobs to do, people to see, deadlines to meet and bills to pay. How can we possibly make the time and space we need to do great work? Being busy is more important, and any time we do make for ourselves, we spend it on frivolous things that lack complexity and stimulation.
On art, David Lynch quotes Bushnell Keeler, artist and father of a friend; "If you want to get one hour of good painting in, you have to have four hours of uninterrupted time." That's basically true, Lynch says. "You don't just start painting. You have to kind of sit for a while and get some kind of mental idea in order to go and make the right moves… Then it's a matter of studying it and studying it, and studying it; and suddenly, you find you're leaping up out of your chair and going in and doing the next thing."
I was glad when I read that because it gave me a licence to take my time. I mean, I knew it already, but a part of me questioned it. The thought comes in; you should be doing something, c'mon, you should use your limited time productively. But when I write, I need hours and hours. I can't just jump into it and write something I consider good. There has to be a lead-in. Like Lynch says, "if you know you've got to be somewhere in half an hour, there's no way you can achieve that." There needs to be space for the idea to propagate. That means we've got to be on our own without distraction to allow the self to show us something.
--- Send in a voice message: https://anchor.fm/sunday-letters/message