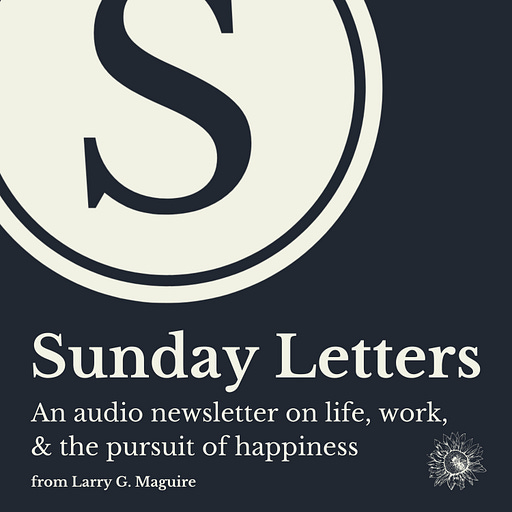 Jun 9, 2021 • 16M
203 Fear & Work
The Sunday Letters Podcast is the weekly audio newsletter from organisational psychologist Larry Maguire on the meaning & purpose of daily work and our paradoxical relationship with it. We explore how we may break free from tiresome means-to-an-end labour and take command of their own working lives. Topics include solo working, careers, entrepreneurship, small business economics, society and culture. Content follows the written newsletter, which goes out to subscribers every Sunday.
Support Sunday Letters; https://sundayletters.larrygmaguire.com
I think the challenge is to be easy about it rather than forceful. I was forceful with my people the whole time. I pushed hard and watched their every move. It's stifling under that kind of scrutiny. Of course, there have to be standards, and the industry is filled with people with bad habits and poor training who don't want to improve, to keep higher standards. But that's the problem when you operate in a game where others decide what your work should look like–you don't get to be truly creative and so there's a certain resentment. In a game where the rules are set and people's creativity is taken from them, they lose their power if indeed they even felt it in the first place. They become disenfranchised and demotivated. There's no incentive to apply themselves. Ok, there might be a pay packet at the end of the week, but people aren't motivated by money, not really.
The game is rigged. Humans are robots in the machine of production and consumption. Ever since Frederick Taylor made scientific management a thing, people's creativity and intuition have been dampened, even removed completely. You could argue that this change came about through industrialisation. Today, instead of being able to think for oneself, to be creative and self-expressive, work has become a measurable and quantifiable exercise where your merit and reward is linked to how many widgets you can make in a minute, an hour, a day, a week. It's the same in services'; you've got to be representative of what the company deems appropriate. Whatever happens, you certainly cannot be yourself.
Read the full article; https://sundayletters.larrygmaguire.com/p/the-gnomic-fear-and-work
--- Send in a voice message: https://anchor.fm/sunday-letters/message