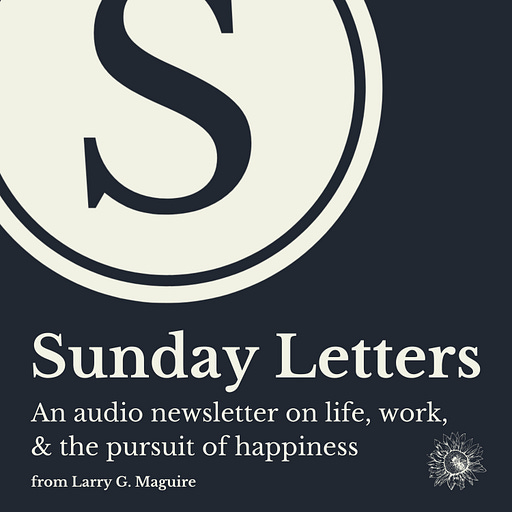 May 23, 2021 • 27M
201 We're Made For More Than Disturbing Dirt
The Sunday Letters Podcast is the weekly audio newsletter from organisational psychologist Larry Maguire on the meaning & purpose of daily work and our paradoxical relationship with it. We explore how we may break free from tiresome means-to-an-end labour and take command of their own working lives. Topics include solo working, careers, entrepreneurship, small business economics, society and culture. Content follows the written newsletter, which goes out to subscribers every Sunday.
As I consider the variety of work I do on a daily and weekly basis–work for which I receive payment and not, work I do for pure enjoyment, and work I'd rather not do–it strikes me that most of what feels off about it all, comes from having to do it. It is the sensation that someone or something is looking over my shoulder with a critical eye waiting impatiently for me to fulfil some prior commitment or other. And as this sensation of external pressure weighs on my consciousness, I wonder was it always this way. It seems to me, and I've written on this many times before, that with the advent of industrialisation came the widespread imperative to work under command. Although, I will accept that work may have always involved a relatively flush party and another willing to work for some of that gold. With that in mind, perhaps regular joe soap workers have never been free to direct their own work.
Being somewhat obsessed with the nature and value of daily work as I am, and why we seem to have such a dichotomous relationship with it, I bought a few books on the history of work. One is The Oxford Book of Work1, an anthology that draws upon a range of views and experiences of work across the centuries from writers, poets, scientists, clergy, journalists, and laypeople. It's an account of work over the entire spectrum of life from youth through to retirement contrasting, as the author says, the delights of occupation and the harshness of compulsory labour. Some accounts suggest the glory and honour of work. Others, such as Oscar Wilde, suggest work is mentally and morally injurious.
Read the full article
--- Send in a voice message: https://anchor.fm/sunday-letters/message