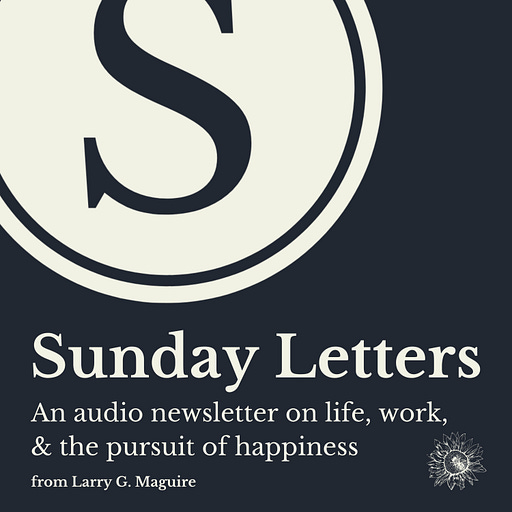 May 3, 2021 • 18M
194 Protecting Your Privacy
The Sunday Letters Podcast is the weekly audio newsletter from organisational psychologist Larry Maguire on the meaning & purpose of daily work and our paradoxical relationship with it. We explore how we may break free from tiresome means-to-an-end labour and take command of their own working lives. Topics include solo working, careers, entrepreneurship, small business economics, society and culture. Content follows the written newsletter, which goes out to subscribers every Sunday.
Over the past twelve months, I have felt an increasing need to protect my internet activity and private data from misappropriation and misuse. An apparent "compromise" of my password information held by Google pretty much made up my mind. I needed to take greater care of my online information and be less reliant on one provider; Google. Not only that, I needed to keep my info to myself rather than give it away for free. However, my attempts to shield myself may be in vain. Here's what Cnet said recently on Google's privacy policies;
For example, Google has admitted to scanning your Gmail messages to compile a list of your purchases in spite of publicly declaring in a 2018 press release, "To be absolutely clear: no one at Google reads your Gmail, except in very specific cases where you ask us to and give consent, or where we need to for security purposes, such as investigating a bug or abuse." Perhaps by "no one" Google meant "no human," but in an age of increasingly powerful AI, such a distinction is moot.
Every email you write, and every email you receive via Google's email servers tells them something about the way you live and work. Google Drive saves your files in a convenient way allowing collaboration with others across the globe, and it's all free. Brilliant, right? The Google Maps application tells them where you're going, where you've been, and for how long. The search terms you use when looking for garden hose parts, or cake ingredients, might give you the answer you were looking for, but it also tells them who you are.
--- Send in a voice message: https://anchor.fm/sunday-letters/message