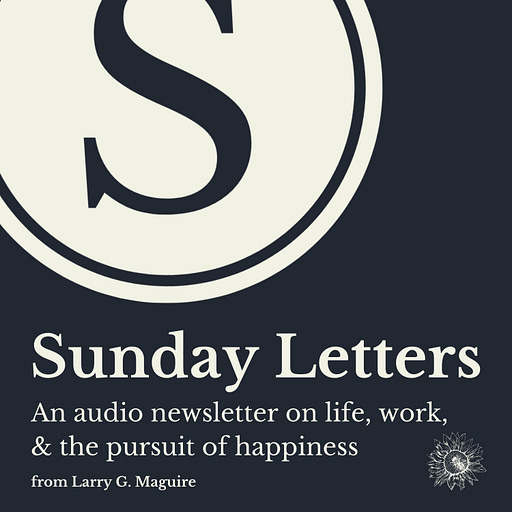 May 3, 2021 • 14M
193 Knowing The Pattern
The Sunday Letters Podcast is the weekly audio newsletter from organisational psychologist Larry Maguire on the meaning & purpose of daily work and our paradoxical relationship with it. We explore how we may break free from tiresome means-to-an-end labour and take command of their own working lives. Topics include solo working, careers, entrepreneurship, small business economics, society and culture. Content follows the written newsletter, which goes out to subscribers every Sunday.
The English Grand National was on last Saturday and I usually have a punt on a rank outsider. I'm not otherwise into betting, but the Grand National is a bit of a spectacle so it's fun to have a stake with the rest of the family. Although my wife holds an entirely counter view, you could take the entire horse racing industry and send it to the moon for all I really care.
Pundits talk about odds, and it's supposed to be an accurate assessment of the horse's chance of winning, but it's really "just" the bookies' opinion. Sure, there is the matter of recent form, the trainer's expertise, and the skill of the jockey, but bookies sometimes get it wrong. They just need to get it right more often than not and they win. And bookies always win over the long run, just like the house always wins in Vegas, otherwise, they wouldn't be there.
So when they talk about odds, what they're really talking about is the pattern. They are up close to the phenomenon and they are familiar with how the pattern plays out. As such, they know how prominent aspects replicate over time. They can't know the entire pattern, no more than the rest of us can, but they are so close to it, so attentive to it, that they see more than the rest of us. There are aspects they cannot see, and there are aspects that don't grab their attention for very long because they don't replicate as often as others. And it is here that our winning of the bet lies.
--- Send in a voice message: https://anchor.fm/sunday-letters/message