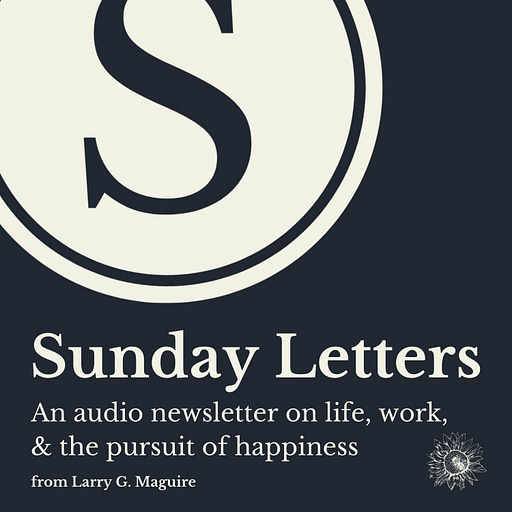 May 3, 2021 • 24M
192 Finding A New Way To Work
The Sunday Letters Podcast is the weekly audio newsletter from organisational psychologist Larry Maguire on the meaning & purpose of daily work and our paradoxical relationship with it. We explore how we may break free from tiresome means-to-an-end labour and take command of their own working lives. Topics include solo working, careers, entrepreneurship, small business economics, society and culture. Content follows the written newsletter, which goes out to subscribers every Sunday.
Yesterday I was on to something, but then I lost it. It happens like that; an idea lands, and it writes itself in my head as I brush my teeth or make dinner. If I don't get it down on paper, I lose it. It disappears back from wherever it appeared like the flame on a dying match. No problem though, there's always another. That's what happens when we've been doing something for a long time; it produces itself, and we're merely there to facilitate it. Sunday Letters is on the go since 2015, and before that, I had been using writing as a marketing tool for my work. After over ten years of writing, it has become something more than a means to get what I want. It is a conversation with myself, an attempt to understand what's going on, to understand myself. I had to learn the hard way how this process works, however. I used to think we could make it happen, you know, success or whatever you want to call it. The material reflection needed to follow. Otherwise, what I was doing wouldn't work and, therefore, not worth the effort. That's the measure of it you see. But in that frame of mind, we miss way too much, and we can get lost.
In another location here on Substack, I've been writing about leadership as it applies mostly to business, but it's also applicable to other areas. In particular, I've been writing on the essence of the personality type associated with success, with material success. Thus far, I have figured out that if we're not tuned to the mode of being necessary for success, then we fail. Because, sticking with the business arena for a moment, that world is by its nature highly competitive. That's the nature of the beast, and if we're going to enter it, we've got to be willing to kill or be killed. In that process, we must take advantage wherever we can get it, and if that means manipulation, deceit, coercion and so on, then so be it. The only thing stopping us is the voice of our own integrity whispering in our ear. But then again, if you listen to that, you'll likely be eaten.
--- Send in a voice message: https://anchor.fm/sunday-letters/message