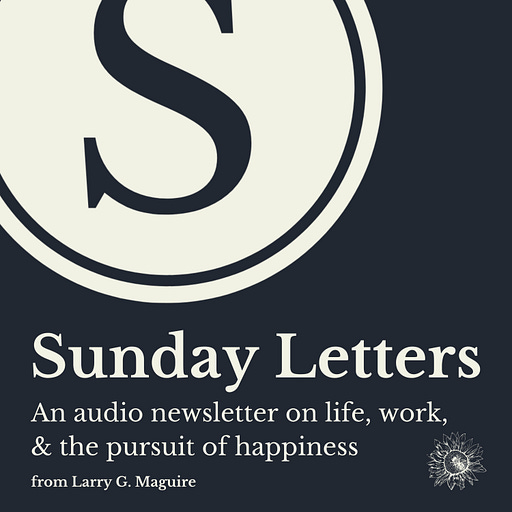 May 3, 2021 • 21M
189 Watching Someone You Love Pass Away
The Sunday Letters Podcast is the weekly audio newsletter from organisational psychologist Larry Maguire on the meaning & purpose of daily work and our paradoxical relationship with it. We explore how we may break free from tiresome means-to-an-end labour and take command of their own working lives. Topics include solo working, careers, entrepreneurship, small business economics, society and culture. Content follows the written newsletter, which goes out to subscribers every Sunday.
I was at home at about 9 pm when the phone rang. The hospice called earlier, my sister said. They got a cancer care nurse to assist in the final few days. She had arrived at the house, and it was, in fact, only a matter of hours. I had been over earlier that day, and I knew time was short, but I didn't think it would be as quick. How could I? It was happening for a while, maybe a year or more before she was diagnosed, but something in me didn't want to acknowledge. I knew, but I didn't know. In retrospect, the dots became joined, and her behaviour made sense. I had never experienced someone this close to me die before, and now here I was, about to watch her slip away. Joanne overheard my conversation and suggested I get over there without delay. She's a hospice nurse and all too familiar with how ends play out.
I was filled with questions, and driving in the dark I felt that any effort to find answers was futile. Our instinct, it seems, is to try to save the ones we love. Just sitting by and watching them deteriorate is counter-intuitive. So we search for something, anything, to keep them here. Second opinions, experimental drugs, alternative treatments, prayers, we do whatever we can, no matter how ultimately useless and dire the situation, to save them. But there was something about her illness that made all of that pointless to me, even naive. Instead, it all simply collapsed into fact, like I was watching from the outside. I was in it, suspended in an alternate universe over which I had no control, like watching a car crash in slow motion and my mother in the driving seat. My role, it seemed, was to offer consolation. I had little else.
--- Send in a voice message: https://anchor.fm/sunday-letters/message