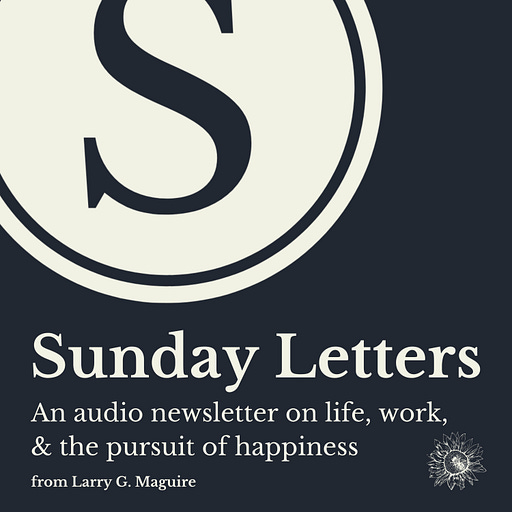 May 2, 2021 • 21M
188 Selling Our Personality
The Sunday Letters Podcast is the weekly audio newsletter from organisational psychologist Larry Maguire on the meaning & purpose of daily work and our paradoxical relationship with it. We explore how we may break free from tiresome means-to-an-end labour and take command of their own working lives. Topics include solo working, careers, entrepreneurship, small business economics, society and culture. Content follows the written newsletter, which goes out to subscribers every Sunday.
Who are you at work? What persona do you adopt? Is it even fair to assume, or to realise, a separate self to the one that you ordinarily call you? More importantly, perhaps, how does taking on that identity make you feel? It is the you that "feels" to which I refer rather than the name tag and photo on your ID card. Do you know the difference? Often we don't, and we find ourselves at odds with our daily work. It becomes an exhausting means to an end existence where we run the daily gauntlet of managing our emotions and demands of the job. It takes many of us to the emotional and physical edge.
Youthful, we leave the relative safety of home wide-eyed and full of beans, naive and enthusiastic for our emerging working life. We enter the workplace expecting it to fulfil our material, emotional, psychological needs, and creative needs. Assuming, that is, we've followed our curiosity and interest rather than the broadly accepted imperative to make money for money's sake. Should the latter be the case, we might be happier in our work, knowing that it is a bastard and expecting nothing less than what it has to offer. I've met and worked with people that hold this idea. They say, "so what, it's just a job," or "nothing personal, it's only business." For these actors, the workplace is a volatile, ambiguous, and antagonistic arrangement between parties that are our for gain at the expense of others and indeed themselves. And it takes its toll because, in such arrangements, we are compelled to forgo our sense of humanity.
--- Send in a voice message: https://anchor.fm/sunday-letters/message