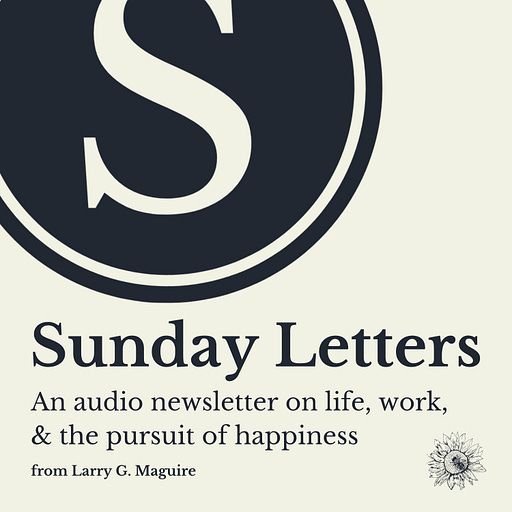 May 1, 2021 • 17M
187 Back From The Dead
The Sunday Letters Podcast is the weekly audio newsletter from organisational psychologist Larry Maguire on the meaning & purpose of daily work and our paradoxical relationship with it. We explore how we may break free from tiresome means-to-an-end labour and take command of their own working lives. Topics include solo working, careers, entrepreneurship, small business economics, society and culture. Content follows the written newsletter, which goes out to subscribers every Sunday.
I've been considering bringing this bad boy back to life, and while the break has been long, it seems to make sense. I've been writing Sunday Letters since 2015, and while I occasioned to narrate some issues, or at least talk on the particular week's topic, renaming the podcast in line with the newsletter never occurred to me until recently. I launched a new podcast for Sunday Letters but to an empty room and I figured why not just get this show back on track and rename it. So that's what's happening... The Larb is becoming Sunday Letters.
Every Sunday you can get a new edition of Sunday Letters plus an audio version right here. The subject matter will be centred around work, and the happiness and fulfilment we all pursue through it but rarely experience. I think that experience should be different and so each week I write about it. Using the lenses of psychology and philosophy, I examine what work means, why we do it, how we feel about it, and what we'd do if money was not a concern.
Anyway, there's a new episode out on Sunday, and a shorter one on Wednesday. Get on it here.
--- Send in a voice message: https://anchor.fm/sunday-letters/message